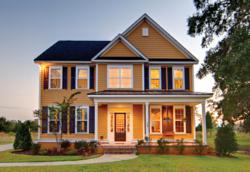 We've always had a passion for quality and customer service, which is what the GuildMaster awards are all about.
Charleston, SC (PRWEB) June 02, 2011
Sabal Homes of South Carolina has joined an elite group of builders and remodelers as a four-time winner of the Guildmaster Award with Highest Distinction. Only three other companies share this distinction. The award program is an initiative of GuildQuality, an independent national firm that uses customer surveys to assess satisfaction in the homebuilding and remodeling industry.
"We've always had a passion for quality and customer service, which is what the GuildMaster awards are all about," says Jason Simpson, a Sabal Homes founder and vice-president. "Our customers are neighbors and friends, so getting it right is really personal for us. This award is a welcome validation of our efforts."
Sabal Homes offers a distinctive product and approach to homebuilding. Homes, built in Charleston's most desirable residential neighborhoods, are known for top craftsmanship that delivers exceptional comfort and reliability.
"One of the comments we always seem to hear from our buyers is how flexible we are towards trying to meet their individual needs. The level of customization we provide affords our buyers the opportunity to get exactly what they want out of their new home, rather than having to settle as may be the case with many other builders," says Simpson.
The GuildQuality awards recognize businesses that demonstrate an ability to consistently deliver an exceptional customer experience. Customers assess their performance in categories including timeliness, courtesy and punch-list completion. The Guildmaster award with the highest distinction is the highest award that GuildQuality acknowledges.
Winners must earn the recommendation of at least 90 percent of survey respondents. Sabal Homes has consistently tracked near 100 percent.
"Building a home is a huge financial and emotional investment and customers want to know that you're right there with them at every phase," says Simpson. "As locals, we have much more flexibility and accessibility than other builders."
Sabal Homes uses the GuildQuality survey results to benchmark service. Over the years, buyer feedback has helped improve every aspect of operations – from business plans to floor plans. Homeowners are active participants in the homebuilding process and in making Sabal Homes a quality and service leader.
Founded in 2005 by Carolina natives Matthew Jones, Jason Simpson and Todd Ussery, Sabal Homes is an award-winning homebuilder offering homes and homesites in six distinctive communities in Charleston and the surrounding coastal areas. Learn more by calling (843) 388-8483, or at SabalHomesSC.com.
# # #