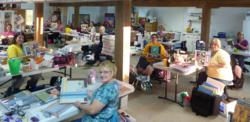 "My meals are custom planned for each group, whether it is a picnic lunch, campfire dinner, Red Hat Tea or Buffet Breakfast. But what they really love are my delicious desserts!"
said Innkeeper Carolyn Boatman.
Brooksville, KY (PRWEB) July 04, 2011
The Country Lodge at Sabbath Song Farm offers something for everyone who visits this magnificent 265-acre haven located just an hour from Cincinnati and within a couple of hours from Lexington, Louisville, Indianapolis, and Dayton. The Garden Art Studio is perfect for Red Hat Society Tea Parties or a gathering of friends for a day-trip to enjoy the country views. The Country Lodge is equipped to sleep up to twelve overnight guests, with a King Suite, Queen Suite and a loft that sleeps eight. The expansive deck overlooks the rolling hills and ponds. The property is filled with paths that lead to flower-filled meadows, ponds and tree-lined creeks.
Groups love to visit the lodge, in part because of the view and accommodations, but meals prepared by Carolyn Boatman, Innkeeper are at the top of the list of reasons why guests return over and over again.
"I love to take care of our guests," Carolyn said. "I love cooking for them and have several house-specialty recipes that I have created especially for use at The Country Lodge. My meals are custom planned for each group, whether it is a picnic lunch, campfire dinner, Red Hat Tea or Buffet Breakfast. But what they really love are my delicious desserts!"
Carolyn and Wes Boatman purchased the property at Sabbath Song Farm about four years ago and opened The Country Lodge after converting an incredible century-old barn into a Bed and Breakfast. They have expanded the services of The Country Lodge and cater, in part, to scrap booking groups of all ages. The lower level, or Garden Art Studio, is filled with six-foot long tables, rolling desk chairs, plenty of electric outlets, lighting, snacks and drinks. One of the great things that dedicated scrappers like is to bring their own tools and supplies. The Garden Art Studio is situated so guests can pull up, unload at the door and then park their car a few feet away.
As a proficient artist, Carolyn knows the importance of having the right place to creatively work, and the atmosphere at The Country Lodge couldn't be more inspirational. Many groups check in on Friday night, enjoy Carolyn's meals on Saturday, and check out on Sunday morning. This gives them plenty of opportunity to create, plus time to enjoy the countryside with a stroll through the woods or meadows. Garden Art Studio Teas are also popular and for anyone looking for a day-trip, this is the perfect spot for some R and R. The Country Lodge is a popular place for girlfriend retreats, couples romantic get-aways and church functions.
"One of the greatest things about The Country Lodge is that everyone loves it here. It is the perfect spot for girlfriends, couples, families, business co-workers, reunions or friends who just want to reconnect. The whole area is just gorgeous and it puts you right in the middle of nature. It's very refreshing!" Carolyn said.
Families enjoy The Country Lodge as well, and with the private sleeping quarters for adults and loft for the kids, two full baths and a commercial kitchen, it makes a wonderful spot for family reunions or gatherings. Meals can be provided with advance notice and a minimal charge, but breakfast is always included.
For companies searching for a place to plan or brainstorm, the peaceful atmosphere offers a place to "get away from it all" while still providing wireless internet service for the necessary business connections. The Country Lodge truly provides something for everyone.
Many events are also held at The Country Lodge. A Writers Retreat is planned for September 30, Oct. 1-2, featuring writer, author, speaker and TV Host Patricia Stirnkorb. Carolyn's Annual Pie Bake Weekends are scheduled upon request with a minimum of six guests and a maximum of twelve. and Christmas Parties are already being booked for the 2011 season and inspirational "Soul Sojourn" weekends are being planned for spring of 2012.
For more information about The Country Lodge at Sabbath Song Farm, contact:
Carolyn Boatman
606-735-9914
http://www.SabbathSongFarm.com
###