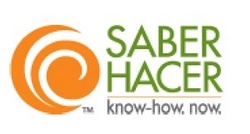 We recognize that the Internet is becoming a more powerful tool that more Hispanics are utilizing. Through Saber Hacer, we are empowering Latinos hungry for information that is going to help them make important decisions on topics of relevance to them and to the community as a whole
LOS ANGELES (PRWEB) May 16, 2008
According to the AOL/Roper Study conducted in 2005, Hispanics' online use of broadband connections is rapidly increasing. The survey found that Hispanics rely heavily on the Internet to learn about products, share opinions and improve their lives overall. However, it also pointed to the greater need for Spanish content and information relevant to the community. Given this trend, Saber Hacer is tapping into a space largely empty of significant, culturally relevant information, in both English and Spanish, for consumers looking for expert advice on various issues affecting their family's lives.
"We recognize that the Internet is becoming a more powerful tool that more Hispanics are utilizing. Through Saber Hacer, we are empowering Latinos hungry for information that is going to help them make important decisions on topics of relevance to them and to the community as a whole," said Michele Ruiz, president and Co-founder of Saber Hacer.
With more than 20 years of production experience, Saber Hacer is led by Emmy Award-winning journalist Michele Ruiz, who served as KNBC-TV's 6 pm News Anchor from 1998-2005. Michele conceived the idea of Saber Hacer with a keen eye on the importance of providing information, with journalistic standards, in language and relevant to the lives of Hispanics in the U.S. today. "Saber Hacer holds the key to valuable information that is often unavailable to Latino consumers for various reasons. We have partnered with experts in different fields to make culturally relevant information readily accessible at the click of a button," Ruiz adds.
Currently, the Saber Hacer broadband site contains original content - not translated - and continues to develop culturally pertinent topics such as health, education and careers among others. The Saber Hacer team has also given a great deal of attention to the many market segments that define the Latino community, which is why content is developed in both English and Spanish. With investment in focus groups, technology and video production, Saber Hacer continues to build its knowledge-based content, creating an intellectually exciting and emotionally engaging bilingual outlet for consumers. In addition, Saber Hacer provides a series of bilingual DVDs obtainable through the online store that offers more resources available to consumers.
For more information or for media inquiries, please contact Delia López at 310.882.6844 ext. 52 or dlopez@saberhacer.com.
About Saber Hacer
Saber Hacer, LLC, a media company using the brand name Saber Hacer™, is dedicated to providing Latinos in the U.S. and Latin America with high quality video content in a variety of digital formats. The Company was founded in April 2006 with its first content produced in September 2006. Saber Hacer was created to fill a significant void in the Hispanic community of expert-driven instructional, self-help, and educational information, in both Spanish and English, for the fastest growing population in the U.S.