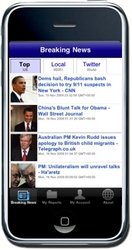 360News free iPhone app quickly democratizes news reporting for Citizen Journalists and News Enthusiasts
Santa Clara, CA (PRWEB) December 18, 2009
Silicon Valley, CA – SachManya LLC publisher of 360newslive.com and 360ne.ws citizen journalism websites, announces immediate and free access to their first iPhone® app called 360news – putting the power of news reporting in the hands of citizen journalists and news enthusiasts. 360News app can be downloaded for free from this link: http://www.360newslive.com/index.php/itunesurl.html.
Using 360News app, citizen reporters can quickly report the news on the spot with automated location, date and time insertion and photo or video capture capabilities. But that's not all, 360News' proprietary distribution service then will post/submit the news to 360newslive website, Twitter®, Facebook®, Youtube®, CNN iReport®, Yahoo/Reuters You Witness News®, MSNBC and more. So if someone has worthy news to report, 360News will instantly spread the word around the top Internet news sites might even be the catalyst for their 15 minutes of fame.
For news enthusiasts it delivers the location enabled breaking news along with latest top news stories and breaking news tweets in an easy to read format with the relevant news images. That's not all, the users can create their profile, socialize with the fellow community members, rate the submitted stories and more on 360ne.ws website.
In the New York Times-Media Decoder article (June 8, 2009), author Brian Stelter highlights that "smartphones like the iPhone with their video recording and easy upload to Youtube capabilities are taking a groundbreaking step in the age of citizen journalism." In the same article, Dan Gillmor, the director of the Knight Center for Digital Media Entrepreneurship, says that "citizen media creators need more options than the ones YouTube offers,". SachManya's 360News' mobile application effectively fills this gap by providing easy to use and powerful citizen news reporting tool to its users at no cost.
360news is already getting good reviews from its test users. Here is a sample of what some of its initial users have to say about 360News App and its website.
Prasanth Manthena, MD, Neurologist and a news enthusiast, said "I had an opportunity to see 360news App live in action before its launch in the iTunes store. 360News app is like a Swiss Army knife for news enthusiasts. It makes on the spot news reporting easy & at the same time delivers location based breaking news and tweets."
"This exciting new app enables a dialog between news organizations and their subscribers," said Christopher Arnold, CEO of ncubeeight Inc. "Not only will this result in fantastic discovery tool for local news into the newsroom, it will drive brand engagement and increased news consumption among the participating readership."
For additional information on the news that is the subject of this release, email 360News at marketing@360newslive.com or visit http://www.360newslive.com. You can also follow 360news on Twitter (http://twitter.com/360newslive) and facebook (http://www.facebook.com/pages/360-News-Live/204515613625).
About SachManya LLC
SachManya LLC develops and markets mobile applications that work across major smartphone platforms. SachManya is based in Silicon valley and founded by veterans of Yahoo, Apple, Hewlett Packard (HP), Infosys and Wipro.
About 360News iPhone App
360News is all about mobilizing the user-generated news creation and sharing it with the rest of the world in the fastest and easiest manner. Any 360news contributor can login and submit any recent news through the website/ iPhone application which is then distributed to major news sites like Twitter, CNN, MSNBC, Facebook etc. 360NewsLive website do not owe any right on the reported news, instead, the views and content of the site solely belong to that of its contributors.
###