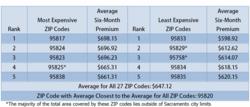 Sacramento, CA (PRWEB) May 10, 2011
It's a known fact that a Sacramentan's place of residence affects the price of auto insurance, but to what extent? To answer that question, agents at OnlineAutoInsurance.com calculated and analyzed the average rates for each of Sacramento's 27 ZIP codes and reviewed the results.
Through the auto insurance quotes comparison, the site found that a person living in the most expensive ZIP code in Sacramento could end up paying as much as 16.6 percent more on average than a person who has an identical driver, vehicle and coverage profile but lives in a different part of the city.
The most expensive ZIP code was 95817, and the least expensive was 95833.
When the numbers were crunched, the average annual premium for a single driver profile in the 95817 ZIP code was $200 higher than the average annual premium for the 95833 ZIP code.
For the comparison, the site generated more than 270 quotes for a single driver profile: a 30-year-old married male who has a clean driving record, has been continuously insured for the past 14 years, drives 12,000 miles a year and is purchasing 15/30/10 liability insurance with comprehensive and collision coverage (with $500 deductibles) for a 2009 Honda Civic DX 4-Door.
Extended results from the survey are presented in the chart accessible through the copy of this press release hosted on PRWeb.com.
Although many Californians may not know it, the place where they live is a crucial piece of information to insurers. That's because, according to a 2006 report from the Connecticut Office of Legislative Research (OLR), "Actuarial studies have found where a person garages his vehicle is the most accurate prediction of loss, while an individual's driving history is among the least predictive." Insurers in the state, though, have restrictions on how much a person's geographic location can affect premiums.
Source: http://www.cga.ct.gov/2006/rpt/2006-R-0542.htm
To find out more about how car insurance companies determine how much to charge a driver, readers can go to http://www.onlineautoinsurance.com/ where they will find informative resource pages about coverage in any state and a quote-comparison generator that can be used to get sample premiums from a variety of insurers.
###