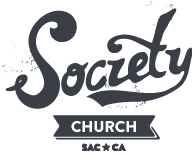 Society Church's purpose is a be place where people can COME as they are, CONNECT through meaningful relationships and GROW in their passion for God.
Sacramento, CA (PRWEB) January 08, 2013
Society Church is a new Sacramento church that will open its doors for weekly worship services on February 10th, 2013 in collaboration with A.R.C. (Association of Related Churches). The Lead Pastor Tim Coburn currently lives in East Sacramento with his wife, Vanessa, and two kids, Miles (4) and Moses (2).
Services offered will include:

Weekly Worship Services with uplifting music, a life giving message, and a fun
place for kids of all ages.

Life Groups are small groups of people that meet during the week to build
meaningful relationships through shared interests and activities.

Society U is a 3 week class that helps people find out more about Society Church,
who they are as individuals and how to grow in their faith.

Society Kids is our children's ministry. Classes will be available at our Sunday
Services for children from 0-2 years old, 3 years old-Kindergarden, and 1st-5th grade.
For meeting times and locations find out more information by visiting: