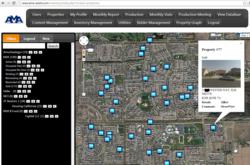 Sacramento, CA (PRWEB) January 10, 2013
It is estimated from 2007-2012; over 4 million families lost their homes due to foreclosure. Many economists believe the second half of 2012; will bring another rise in how many families are forced to leave their homes.
While some families leave peacefully, there are others who experience a fit of buyer's revenge and trash the residence. Aaron Amuchastegui, owner of Aaron Amuchastegui Construction has seen plenty of damage, "We have seen missing toilets, missing appliances, missing HVAC units and holes in walls. One set of occupants left the outside looking new but when you opened the door there was nothing left." Bitter, former homeowners are not the only ones causing damage, but squatters and vandals are wreaking havoc in abandoned homes.
Aaron Amuchastegui Construction has experience in restoring these properties to move in ready. They are launching a new web site http://www.aaronamuchasteguiconstruction.com/ to help investors and potential home buyers transform these neglected properties into highly desired homes.
A homebuyer or investor looking to purchase a foreclosed home can get a real deal. They can also end up with more than they bargained for when it comes to renovations. Aaron Amuchastegui Construction provides full renovation services to investment groups looking to quickly improve the value of run-down properties and get them back on the market to sell right away. "A prior owner left his home full of trash, stained carpets, damaged walls, ruined grout and an unkempt landscape. Within 5 days, the home was restored and back on the market, receiving multiple offers within days of the listing," said Aaron. Significant discounts are available for bulk work and open book cost plus options are available for clients who have more than four projects per month. Dedicated to sustainability, reuse and recycling are common practices with the company to save the environment, time and money.
Aaron Amuchastegui Construction feels the best way to put homeowners at ease with the purchase of a flipped or restored property is by offering a warranty. "We offer warranties on our work to the new buyer of a flipped home so investors can rest assured knowing renovation issues will not come up months later," explains Aaron. Their new, dedicated customer service department will handle the warranties. Brian Ruley, is the customer service compliance manager, "As the customer service compliance manager, it is my duty and passion to ensure that our customers have peace of mind knowing they have purchased a quality product and a home."
The homebuyer will meet with an inspector and lead customer service compliance manager from Aaron Amuchastegui Construction for a walk through, detailing repairs that need to be made. Repairs are then scheduled with the renovation team. After repairs are completed, the homebuyer and compliance manager do a final walk through. A warranty is then issued to repair any problems over the next year, for most properties. If a homebuyer chooses, they can "buy out" of the warranty by adding an "as is" clause. Customers are not required to buy any warranties. Aaron Amuchastegui Construction has also developed proprietary software used as an inventory tracker. This software allows homeowners and investors to track the before and after progress of their home during renovations. It streamlines the process and gives buyers a chance to see renewal in progress.
For more information about this company please call (916)871-9108, or visit his website at http://www.aaronamuchasteguiconstruction.com.
About Aaron Amuchastegui Construction
Aaron Amuchastegui Construction is a family owned and operated business coming from a long line of real estate specialists, home builders and general contractors. They believe in a hands-on approach to keeping projects on time, within budget, while maintaining a high standard of quality. Specializing in high speed, high turnover remodeling, they greatly improve value to distressed properties. Whether a homeowner is looking for a renovation, or an institution requires bulk, quick turn restoration Aaron Amuchastegui Construction can meets your needs on time within budget. They happily serve the Northern California area including; Elk Grove, Laguna, Lake Tahoe, Sacramento, Auburn, Roseville, Rocklin, Placer County, Davis, Woodland, Yolo County and Merced County.