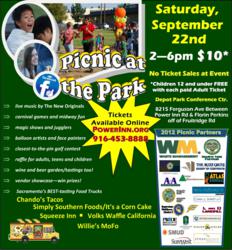 Consolidated Facility Services has provided excellent janitorial service for the past six years. Consolidated's on site staff have proven themselves exemplary service. They now service our Folsom location too.
Sacramento, CA (PRWEB) November 26, 2012
A leading Sacramento janitorial service company, Consolidated Facility Services, is proud of the good works they have done in the Sacramento Valley region. Contributing what they can to families and business owners in Sacramento and the surrounding communities, Consolidated Facility is out to make life a little better for all. Besides promoting a safe environment for businesses in the area, this cleaning services company gives back by helping families enjoy a day of fun and entertainment.
Consolidated Facility Services recently sponsored "Picnic in the Park," a celebration for families with live music, carnival games and midway fun. The kids loved the balloon artists and face painters, while parents took part in raffles and enjoyed a wine and beer garden. The picnic was held on September 22 at Depot Park in Sacramento.
Another way that this janitorial service in Sacramento gives back to the community and their customers is to offer green cleaning products when performing commercial cleaning. Green cleaning products make for a less toxic air quality indoors and healthier living, as well as being much safer for our outdoor environment. The owner of Consolidated Facility says, "We strive hard to reduce health and environmental concerns. Green products help maintain a healthy indoor environment and are safer for our planet as a whole."
Safety of the businesses they service is also a concern of Consolidated Facility a Sacramento janitorial company. They take a proactive role with their employees to ensure all training is up-to-date and covers the most recent standards of OSHA. When all employees are trained in utilizing the latest and most efficient methods of cleaning as well as using state-of-the-art equipment, Consolidated Facility Services knows they are doing the utmost to keep Sacramento business owners and employees safe.
Customer testimonials highlight the superior service that Consolidated Facility service delivers. One commercial customer called their services "exemplary" and has been using their janitorial services for six straight years. With service that can be counted on, with a commitment to help the community and maintain an environmentally safe operation, it is clear that this company does give back in some of the best ways possible.
About Consolidated Facility Services: Consolidated Facility Services is headquartered in Sacramento, California, servicing Roseville, Folsom, Elk Grove and other Central Valley communities. With thirty-five years of experience in providing high quality cleaning services throughout the region, they offer everything from basic cleaning to marble and granite restoration and 24-hour emergency services.