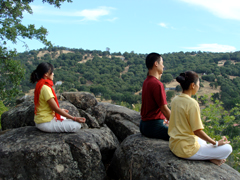 Sadhana Intensive affords a unique opportunity to extend the limits of our capabilities, strengthen our stamina and develop self-confidence with long lasting effects.
San Francisco, California (PRWEB) April 07, 2014
Sadhana Intensive is a two-week program devised by Swami Vishnudevananda based on his own hatha yoga sadhana in the Himalayas. He said that six months of this intensive practice gave him the energy to carry out his mission of spreading the teachings of yoga in the West for next 40 years. For more information, please visit http://www.sivanandayogafarm.org.
This course is based on individual self-practice divided into two or three sessions per day. The emphasis is on intense and prolonged pranayama. Students work towards eight hours of hatha yoga per day which is balanced by the study of classical scriptures.
The course demands a high level of self-discipline and students are guided according to individual needs. Students are expected to remain within the ashram premises throughout the course with no free days, no access to telephone or email and a strict sattvic diet (salt, spice, tea and sugar free).
The highly controlled environment is vital for this type of practice.
The course requires some preparation from the student. Interested students are advised to prepare by following a regular daily hatha yoga practice and a sattvic lifestyle. Sound physical and mental health is a pre-requisite.
Sadhana Intensive affords a unique opportunity to extend the limits of our capabilities, strengthen our stamina and develop self-confidence with long lasting effects.
The daily schedule includes:

Practice of kriyas.
Morning and evening satsang with meditation and chanting.
Two or three practice sessions of asana and advanced pranayama incorporating bandhas and mudras.
Study of Hatha Yoga Pradipika / Viveka Chudamani / Srimad Bhagavatam.
Morning almond milk drink, brunch and dinner.
Participation in entire daily schedule is mandatory. The course director may change the schedule according to the need of the students.
Sadhana Intensive courses are open only to Sivananda Teachers Training Course (TTC) graduates. Good physical and mental health as well as a high degree of self-motivation are required due to the very intensive nature of the course.
An internationally recognized certificate from the International Sivananda Yoga Vedanta Centre organization (ISYVC) is awarded on completion of the course.
About Swami Sitaramananda
Swami Sitaramananda is a Yoga, Meditation, and Vedanta teacher for more than 30 years. She is presently the main teacher of the Yoga Teachers Training Courses offered at the Sivananda Ashram Yoga Farm, Grass Valley, CA where she is serving as the director for more then 17 years. She also teaches at other Sivananda Yoga Vedanta Ashrams & Centers in India, Bahamas, Asia, as well as Centers along the West Coast USA, including her birth country, Vietnam. She is a direct disciple of Swami Vishnu-devananda. She was nominated by her teacher as Goraknath acharya (spiritual teacher, one of the holders of the lineage) in 1989. Her lectures are based on the four classical paths of yoga as well as the 5 points of Health. http://www.sivanandayogafarm.org/swami_sitaramananda
About Swami Pranavananda
Swami Pranavananda took the vow of Sannyas in 1995. He is a gifted teacher who is the main hatha yoga teacher at the ashram and teaches the Anatomy and Physiology section of our Teachers Training Course. He co-directed the San Francisco Center for five years. A talented musician, he enjoys leading kirtan and bhajan chanting sessions during satsang. http://www.sivanandayogafarm.org/swami_pranavananda
About Ananta Chaitanya
Ananta Chaitanya graduated TTC in 2009 and has remained Staff since then. He served in Los Angles Yoga Center in 2010 and in San Francisco Yoga Center in 2011. In 2012 and 2013 he traveled to Vietnam as Swami Sitaramananda's personal assistant helping teach the Hath Yoga classes for the TTC. Ananta ch. also assists Durga Leela in teaching the 12 days Ayurveda and Yoga Wellness Certification course integrating ayurvedic principles onto the yoga mat. Ananta ch. has called the Yoga Farm in Grass valley his home now for the past 4 years. He loves living in a community close to the land and has helped assisting the Permaculture Design course and overseeing the blossoming vegetable garden.
The Yoga Farm also hosts a Yoga Nidra course, courses on Yogic philosophy, Yoga for back pain and ayurvedic retreats, and an advanced teacher's training course (ATTC). The Advanced Yoga Teacher's Training Course helps graduates to deepen their spiritual practice and their study of Hatha yoga, Vedanta philosophy, Raja yoga, anatomy and Sanskrit. The advanced class gives students an additional chance to practice under guidance in a supportive atmosphere, which provides many with a boost of energy and clarity.
About Sivananda Ashram Yoga Farm
In 1971, Swami Vishnudevananda returned to California and founded the third ashram in the young Sivananda International organization: the Sivananda Ashram Yoga Farm on 40 acres of land located in the Gold Country of the beautiful Sierra Nevada Foothills in Northern California. The non-profit, non-sectarian ashram offers yoga classes, retreats and teacher training courses for students of all abilities. For more information, please visit http://www.sivanandayogafarm.org.