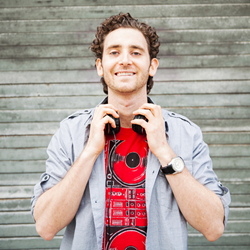 My DJ skills improved tremendously as a result of my studies at SAE. I'm creating DJ mixes with a deep understanding of how we listen, perceive, and relate to the sound spectrum. I'm truly grateful for all that I learned at SAE.
New York, NY (PRWEB) July 30, 2014
2013 SAE Institute New York Audio Technology Program graduate and internationally acclaimed club/event DJ Daniel Dinov won the Non-Engineering Award at the third annual SAE Institute New York Alumni Awards which was held at The Cutting Room in Manhattan in early July.
"Our Alumni Awards celebrated the noteworthy contributions that SAE alumni have made in the entertainment and audio industries over the past year," says SAE New York Campus Director Michael Morrell. "Daniel's win and impressive career are testaments to the outstanding quality of SAE's curriculum and training, as well as his own hard work, dedication to excellence, and immense talent."
Dinov is a native of Brooklyn, New York and a 2007 graduate of The Masters High School in Dobbs Ferry, NY. His interest in DJing began while he was a freshman at SUNY New Paltz, and he was influenced by such turntable luminaries as A-Trak, Jazzy Jeff, Bob Sinclair, and the late DJ AM. After graduating from SUNY with a bachelor's degree in Business Marketing in 2012, Dinov pursued DJ work full-time and was represented for bookings by Scratch Music Group. He also enrolled in SAE to learn the art and science of audio engineering.
"When I was looking to continue my music education by studying audio technology, I didn't find any other programs that came close to what SAE was offering," says Dinov. "Also, SAE is a recognizable name all over the world, with a growing list of alumni who have established themselves in the music biz. I wanted to be a part of that culture and history."
Dinov's work as a club and event DJ (he's professionally known as DJ ZEV) includes performances at Webster Hall and Amnesia (NYC), Revel Casino (Atlantic City), Fashion Night Out for Michael Kors, and NFL Super Bowl parties. He's also spun at private gigs for Versace, Nick Cannon, MTV, Red Bull, and Steve Madden. Dinov was the first American DJ to play at the original Bora-Bora Nightclub in Castellón, Spain, and had a four-week residence as a celebrity guest DJ aboard the Norwegian Epic Cruise Line in Europe.
"My DJ skills improved tremendously as a result of my studies at SAE," says Dinov. "The relationship between low, mid-range, and high audio frequencies was over my head prior to SAE, but now I'm creating DJ mixes with a deep understanding of how we listen, perceive, and relate to the sound spectrum. I'm truly grateful for all that I learned from studying at SAE."
As far as advice is concerned to those who'd like to pursue a career in audio engineering or DJing, Dinov recommends three key ingredients for success: "Practice, patience, and focus."