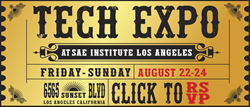 After attending our two-day Tech Expo, registrants will have made a huge leap forward in building their music business careers. They'll be learning from the pros and gaining a well-rounded perspective of both the creative and business sides of music.
Los Angeles, CA (PRWEB) August 19, 2014
SAE Institute, one of America's premier providers of creative media education, will present a free Tech Expo at its Los Angeles campus on Friday, August 22, and Saturday, August 23. The Expo will offer seminars, panels, vendor demos, and raffles for aspiring audio engineers, producers, and creative media professionals.
"Our Tech Expo will be the place to be for anyone who lives in the L.A. area and is trying to break into the music business," says Justin Pond, Campus Director for SAE Los Angeles. "The learning, networking, and relationship-building opportunities will be massive, and registrants will also get chances to win really cool stuff and check out the latest new gear from top manufacturers."
Panels and activities at the Tech Expo will include:

A keynote presentation by Ali/Top Dawg Entertainment (recording/mixing engineer and road DJ for Kendrick Lamar) and Steven Slate/Slate Digital;
"Ableton presents Hear & Now: Pop in L.A.," with Grammy-winning songwriters/producers Tim "The Architect" Kelley/Tim & Bob (Michael Jackson, Madonna, Dr. Dre, Destiny's Child, Beyoncé, Will Smith, Boyz II Men, TLC), songwriters/producers James Fauntleroy and Kevin Randolph/Cocaine 80s (Beyonce, Jordin Sparks, Chris Brown, Ciara), and songwriter/producer Larrance "Rance" Dopson/1500 or Nothin' (Jay-Z, Snoop Dogg, Justin Timberlake, Kanye West, Bruno Mars, The Game). Moderated by DJ, producer, and educator Jon Margulies/Hobotech;
"Pensado's Place," with engineer/mixer Dave Pensado (Beyonce, Christina Aguilera, Usher) and special guests;
"Live Recording," with acclaimed jazz musicians the Miles Mosley Trio and industrial metal guitarist Dino Cazares/Fear Factory;
"Gear and Technology," with EveAnna Manley/Manley Labs, Paul Wolff/Tonelux, Steven Slate/Slate Digital, and Jonathan Little/Little Labs;
"ASCAP Urban Panel - Finding Alternative Financial Revenue Streams for Your Music," with Mir Harris (Associate Director of Membership – ASCAP), Jordan Passman (founder of scoreAscore), Jesse Flores (Sr. Director, Product Management at INgrooves Music Group), and Gaelen Whittemore (Copyright Licensing Manager at Universal Music Group);
"Mastering," with Peter Doell/Universal Mastering, Gavin Lurssen & Reuben Cohen/Lurssen Mastering, Pete Lyman/Infrasonic Sound, and Tom Rogers/Atomix Mastering;
"Maschine + Komplete Workshop," presented by Native Instruments;
"Music in Social Media," with Dae Bogan/Chazbo TV, Nicole Slater/Fender Foundation, Jeremy Gruber/Concord Music Group, and Lisa Vega/The Rolling Stones;
"One-on-One Career Mentoring," featuring SAE alumni who are working in the audio and music production industry;
"Circuit Bending Workshop," presented by artist/composer Jeff Boynton and multi-media music instrumentalist Andy Ben;
"BMI Listening Party," featuring a showcase of music submissions and expert critiques; and
"Silent Disco Party" at Cat & Fiddle Pub, sponsored by Sennheiser.
Over 20 vendors of professional audio equipment and software will also be offering interactive product demos, presentations, and learning sessions, including Ableton, Audio Technica, Audeze Headphones, BAE Audio, Burl Audio, Focusrite, Mojave, MXL/Mogami, Novation, Royer, SE/Ruper Neve Designs, Subpac, Oakley, Schecter, and Universal Audio.
"After attending our free, two-day Tech Expo, registrants will have made a huge leap forward in building their music business careers," says Pond. "They'll be learning from the pros, increasing their knowledge, and gaining a well-rounded perspective of the many facets of both the creative and business side of music."
The SAE Tech Expo will be held at SAE Institute's Los Angeles campus at 6565 Sunset Blvd., #100 on Friday, August 22, and Saturday, August 23. Entry is free and open to the public. To register, sign up online or call SAE Los Angeles at (323) 466-6323 for more information.
About SAE:
SAE Institute provides aspiring creative media professionals with a foundation of practical theory and valuable hands-on training in their chosen areas of concentration. Under the guidance of our faculty, which is comprised of working industry professionals, students gain the essential experience they need for entry-level jobs in the entertainment business. Our students are supported in their job searches by SAE's international network of alumni, many of whom are leaders in the music, film, game arts, and live performance arenas. We offer programs in audio technology across our seven US campuses, along with a music business program at select locations, all fully accredited and focused on preparing students for employment when they graduate. Bachelor's Degree programs in Animation, Audio, Film, Game Art & Graphic Design are available at the two locations of Ex'pression College, which is owned and operated by SAE Institute Group, Inc. SAE Institute Group, Inc. is a part of Navitas LTD. Learn more at USA.sae.edu.
About Navitas:
Navitas is an Australian global education leader providing pre-university and university programs, English language courses, migrant education and settlement services, creative media education, student recruitment, professional development, and corporate training services to more than 80,000 students across a network of over 100 colleges and campuses in 27 countries. Learn more at Navitas.com.