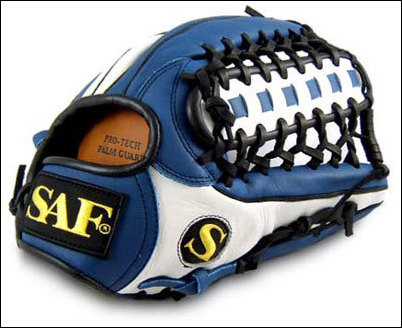 We took our products online so our customers could purchase top-quality baseball gloves at reasonable prices
West Covina, CA (PRWEB) August 1, 2006
After 15 years and a solid reputation for well-made leather gloves, SAF Glove announced the opening of a new wholesale distribution channel. This channel will allow consumers, authorized dealers, and community baseball leagues to purchase the top-quality SAF Glove online, at wholesale prices.
This online store features SAF's new colorful lineup of trend-setting gloves. This new series is touted as being a high-performance glove, oozing with style.
Now available in 2 new striking colors: blue/white, red/black, as well as the traditional tan/black and solid black varieties, these gloves are geared towards a new generation of ball players interested in a glove with the right balance of style, performance and durability. Plus players can choose from 6 web styles, specifically designed for various outfield and infield positions.
This distinct line-up of quality gloves is priced much less than competitive brands and can be purchased online at the SAF e-Store or nearest authorized dealers.
"We took our products online so our customers could purchase top-quality baseball gloves at reasonable prices," said James Djunaedy, operations manager of SAF Glove.
"This way we can maintain a streamlined distribution channel, as well as low overhead, and pass the savings back to our customers."
SAF Glove plans to sell the gloves through their online store and through select authorized dealers, which will allow them to keep prices consistent and maintain full control over distribution.
"Our gloves are designed for ball players looking for a unique glove that will express their individuality and style," said James Djunaedy. "But our main focus is on giving every man, woman, and child that wants to play baseball an opportunity to purchase a premium glove at an affordable price."
For more information about SAF Glove, or about becoming an authorized dealer, please visit us at our website SAFGlove.com - "Playing The Game Doesn't Have To Be Plain."
###