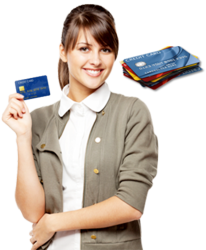 Greenville. SC (PRWEB) June 25, 2013
In their newest published writing, Credit Help Cards gives descriptive and insightful advice on the proper use of and responsibilities that come hand in hand with a new credit card. This article has become very popular in a short amount of time, and many readers state that they wish they had known some of these tips when they began their own credit programs. To read this article visit http://credithelpcards.com/tips-and-tricks-for-using-credit-cards/
http://credithelpcards.com/ is a unique business that specializes in the credit industry. They provide high quality credit cards to nearly all of their applicants, regardless of their clients' current financial situation or history, or their official credit scores. Nearly all of Credit Help Cards applicants end up with quality credit programs and a new major-name credit card. Anyone at all who needs a credit card can turn to this amazing new company and expect great results.
Quality credit cards aren't Credit Help Cards only talent; they also offer a free advice blog that gives valuable information and advice on all financial topics. The blog can be read here: http://credithelpcards.com/blog/
About CHC
CHC is the leading credit card finance provider in USA fully dedicated to help its customers acquire a card regardless of past history. They design and develop customized for those with no, bad or even great credit. Voted the best for "Quality Customer Service; Best National CC Service" by thousands of people, their finance experts focus in providing its customers information and various tools available for different card offers, help them to choose the best that fits their goals and needs.