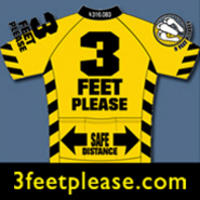 The question is: Is the jersey working? "Absolutely," Mizereck said. "Cyclists are reporting back to me that more motorists are giving them more space more often."
Tallahassee, Florida, USA (PRWEB) March 18, 2011
Determined to save more cyclists' lives, avid cyclist and safe cycling advocate Joe Mizereck of Tallahassee, Florida, announced today that he has re-vamped and updated his website, http://www.3FeetPlease.com. "I wanted to give safe cycling advocates a set of tools and connections for their advocacy efforts," Mizereck said. "And given the success and growing interest we are experiencing in other countries with our safe cycling initiatives, I wanted to add the "1 METRE PLEASE" message and jersey to our toolkit."
Currently, 16 states in the United States have adopted laws that require motorists to give cyclists at least 3 feet of clearance when passing from the rear. California could very well become the 17th "3 Feet Please" state if its legislature passes Senate Bill 910. Kansas, Iowa, Georgia, Missouri, Idaho, Michigan, New Jersey, New Mexico (5 foot), South Dakota, Ohio and Washington all have bills seeking similar clearly stated and understood safe passing distances for motorists to observe.
The new website includes a map where cyclists can find the "go-to" person and organization in their state for information on the "3 Feet Law" or learn about efforts to adopt a law. Mizereck said the site will add provinces and other countries in the months ahead. Cyclists will also find useful links and tools such as "talking points" to help them carry out their advocacy efforts.
"The purpose for these laws is simple: to save cyclists' lives by making riding a bicycle safer," Mizereck said. In 2009, 630 bicyclists were killed and an additional 51,000 were injured in motor vehicle crashes in the United States. Although collisions between vehicles and cyclists when being overtaken represent less than 2% of the total crashes, the fear of being hit from behind is the biggest concern expressed by both cyclists and "want-to-be" cyclists. "If we can reduce or erase this fear by making cycling safer, we can encourage non-cyclists to give cycling a try," Mizereck said. "As more people appreciate and enjoy cycling, we improve safety for everyone. And the research is clear on this: the more cyclists we have on our roads, the safer it becomes for all cyclists."
Mizereck came up with the idea for placing the law's language on the back of his cycling jersey after a particularly frustrating ride where three motorists passed him dangerously close. "I decided to act." Now, more than 3,000 cyclists around the world are wearing his bright yellow jersey with the bold, clear, yet polite reminder on the back: "3 FEET PLEASE" or "1 METRE PLEASE". The question is: Is it working? "Absolutely," Mizereck said. "Cyclists are reporting back to me that more motorists are giving them more space more often."
The key thing for motorists to remember: If you come upon a cyclist and cannot pass without giving at least one metre or 3 feet of space, then please wait until you can pass safely. It will take only a few seconds.
Learn more about the "3 Feet Please" and "1 Metre Please" Campaigns and get yourself or a loved one a jersey at http://www.3feetplease.com.
Questions? Contact Joe Mizereck at joe(at)3feetplease(dot)com.
# # #