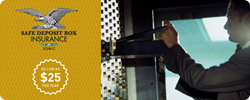 Chicago, IL (PRWEB) June 13, 2013
The US Patent and Trademark Office has granted a patent to SDBIC on its recently introduced safe deposit box insurance product. This innovative consumer friendly product insures all property stored in a safe deposit box without disclosure of the contents or expensive appraisals, preserving the insured's confidentiality and privacy. Over 180 banking facilities nationwide now offer their customers the opportunity to rent an insured safe deposit box using SDBIC's patented product.
Insuring against floods, fires, terrorist attacks, burglaries, robberies and virtually all other man-made and natural disasters and covering all property in the box including precious metals, cash, gem stones, diamonds and even personal documents, SDBIC's patented product offers the most comprehensive, convenient insurance solution at an affordable rate with no deductible.
SDBIC is the recognized expert on storing and protecting valuable personal property in a safe deposit box. For more information about the patented safe deposit box insurance product visit go to http://www.SDBIC.com or contact SDBIC at 224-227-6181.