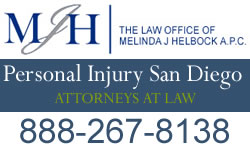 AAA estimates 42.2 million Americans will travel at least 50 miles from home this Thanksgiving weekend.
San Diego, California (PRWEB) November 21, 2012
Thanksgiving weekend is one of the busiest times of the year on our roadways as millions of people travel near and far to be with families and friends. AAA estimates 42.2 million Americans will travel at least 50 miles from home this Thanksgiving weekend. As you prepare to hit the road, there are some things you can do to make sure you and your family are safe:

Be prepared: Prepare yourself for the drive by filling your gas tank and checking your vehicle's fluid levels and tire pressure.
Plan accordingly: Avoid having to rush by giving yourself plenty of time to battle the extra holiday traffic.
Plan for emergencies: Pack an emergency kit in case of emergencies.
Be patient with other drivers on the road: It seems like everyone is in a hurry to get somewhere; make sure to be a courteous driver and to be patient to avoid collisions and road rage incidents.
Don't be an aggressive driver: Try not to be too aggressive on the roads this Thanksgiving. Leave plenty of space between you and the vehicle ahead and try not to push your limits by running red lights.
Avoid distractions: Because of the amount of people on the road who are also in a hurry to get somewhere, and who may have partaken in holiday beverages, it is important to have your full attention on the road. Avoid sending or receiving text messages, talking on a hand held cell phone and looking at a map or electronic navigation systems while driving.
Do NOT drink and drive: This is our number one safe driving tip for the holiday weekend! Thanksgiving is a time to celebrate. This Thanksgiving, be smart about your celebration. If you are planning to partake in adult beverages have a designated driver lined up or plan to stay the night.
Prepare for long distance: If you are driving a long distance, prepare by packing plenty of snacks and waters. If you are traveling with kids in the car, make sure to bring toys and other things to keep them occupied.
About Melinda Helbock
Melinda Helbock is an experienced San Diego personal injury lawyer who helps injured persons seek and recover compensation for their injuries. For more information about her practice or to schedule a free review of your case, visit HelbockLaw.com or PersonalInjurySanDiego.com. Click here to view her blog.