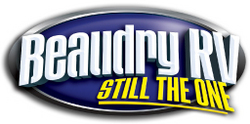 We want our customers to take care of themselves while they are on the road, so their RVing experience can be the best experience possible.
Phoenix, AZ (Vocus) September 7, 2010
Beaudry RV Company announces their top three 'Safe Driving Tips' for RV enthusiasts. RV travel has become more popular with the recession as families are vacationing closer to home and realizing that families can travel more cost effectively in an RV than traveling by plane and staying in a hotel. With more vehicles hitting the road, Beaudry RV
Company has compiled a few tips for the new or seasoned RV traveler:
1. Overheating. When temperatures climb, the first instinct is to crank the AC. In older RVs or motorhomes, this can lead to overheating. The quickest way to cool down the car is to turn off the AC, roll down the windows and crank the heat. Pressure from overheating can cause damage to the engine. If the temperature outside is too hot to turn on the heat, safely pull off the road as soon as possible, exit the highway or find a pullout. Turn off the car. Let the car cool down. Once the car has cooled down, check the radiator to be sure it has fluid in it. If need be, use water to get to the nearest automotive or RV service center and have the RV or motorhome looked at. If the car cools down, then heats up again quickly, have it serviced.
2. Mountain driving. In the mountains, there are often steep uphills and downhills for RV drivers to navigate. Many who are unfamiliar with windy, steep roads have a tendency to ride the brakes for long periods of time on downhills. This can wear out brake pads and after a while can burn out the brakes all together, leaving the driver in an emergency situation where they will have to utilize safety ramps or run-away ramps. Instead, downshift before starting a downhill. If a speed is reached that is over the safety limit, then depress the brake with pressure and reduce speed to at least five miles under the speed limit. Then let off the brake. Don't hold down the brake for long periods of time. Uphills can be a challenge as some vehicles don't naturally downshift to the level needed in order to keep a decent speed on an uphill. Downshifting will give the engine more power to stay at a steady speed.
3. Flat tire. The best way to prevent a flat tire is to have tires checked for air pressure as well as tread wear before leaving. If the RV or motorhome sits in storage for long periods of time, tires may appear like new, but may have internal damage or cracking, so be sure to replace them every five years. If the steering wheel is pulling hard in one direction, there may be a slow leak. Safely pull off the road and check tires. Carrying a fix-a-flat will usually take care of the problem. Otherwise drive with flashers on until it is possible to get to a service station. Another option is to change the tire. If the tire is completely flat, then driving on it may bend the rim and cost quite a bit of money to repair. In this case, put a spare tire on immediately. If the tire pops, remain calm. Turn into a swerve to straighten out the vehicle, not in the opposite direction. Put on flashers and try to get to the side of the road. If help does not arrive right away, get out of the car and stay away from traffic until help gets there.
"We take RV safety very seriously," says Scott Beaudry of Beaudry RV Company. "We want our customers to take care of themselves while they are on the road, so their RVing experience can be the best experience possible."
Beaudry RV Company has been a leader in the RV Industry for over 40 years. Their customer service, parts department and summer events set them apart from other RV companies. They carry an extensive selection of Class A, Class B and Class C Motor homes.
For more information on new and used RVs and Beaudry RV Company or current trends in the industry contact:
Scott Beaudry
Company: Beaudry RV Company
http://www.BeaudryRv.com
Phone: 520-239-5054
# # #