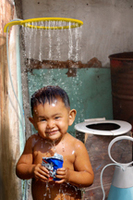 It is projects like Safe Agua that clearly illustrate the influence designers and design education can play in addressing significant real-world problems.
Pasadena, CA (PRWEB) September 8, 2010
In developing countries and impoverished communities around the world, obtaining clean water is a daily struggle. Through the aegis of Art Center College of Design's Designmatters and Environmental Design departments, the College partnered with fellow N.G.O. Un Techo Para mi Pais ("A Roof for My Country") to address the everyday needs of the impoverished people in Campamento San José, Santiago, Chile, given their unreliable access to potable water.
The transdisciplinary Safe Agua team brought together Art Center students from five majors: Environmental Design, Product Design, Graphic Design, Transportation Design, and Graduate Broadcast Cinema under the leadership of faculty members Penny Herscovitch, Daniel Gottlieb and Liliana Becerra that embarked on a two-week field research trip to Chile to meet families living under these difficult conditions. To address opportunities discovered through field research, the team designed six innovative water solutions at a range of scales: a low-cost portable shower (Ducha Halo); a water purification kit for a 5-gallon bucket; a gravity-fed system to simulate running water; a multipurpose kitchen workstation (reLava); a community laundry and gathering space (Mila); and a campaign and publication for people living in campamentos ("slums") to share their own inventions. The families from Campamento San José, in preparation for real world implementation, tested prototypes from the class.
Soon after the Safe Agua studio class ended, an 8.8-magnitude earthquake struck Chile in February 2010. The need for emergency relief products like the Safe Agua projects became all the more acute as the quake severely damaged more than 500,000 homes, affecting 1.5 million people. Immediately after the earthquake hit, Un Techo Para mi Pais worked with Chilean companies to manufacture and test refined prototypes, and bring them to families who had lost their homes in the earthquake. While unanticipated, the accelerated implementation of three of the prototype solutions: Ducha Halo, the reLava sink, and the Mila Community Laundry, underscores the contributions designers can make to effect social change and in response to natural disasters.
Art Center president Dr. Lorne M. Buchman said, "It is projects like Safe Agua that clearly illustrate the influence designers and design education can play in addressing significant real-world problems. The learning involved was important for our students not only as design professionals but, equally important, as members of a global society who respect difference."
Mariana Amatullo, vice president of Designmatters, adds, "Art and Design education for social impact beyond the studio's walls is a foundational tenet of Designmatters; in this sense the human impact of the two weeks the Safe Agua team spent immersed with the families in Chile has transcended the pedagogical value and cultural enrichment that we anticipated."
Safe Agua inspired other Art Center teams to develop strategic, awareness-building communications to strengthen the project's overall impact and document its success including the Safe Agua book, developed under the direction of Graphic Design faculty member Lisa Wagner, a film by Graduate Broadcast Cinema student Elizabeth Bayne, titled "Safe Agua Chile: the Documentary," and "Safe Agua: the Harry Gota Story," an animated short film conceived under the direction of Ming Tai, Art Center's Director of Motion Graphics in the Graphic Design Department.
Currently, the social innovation dimension of the Safe Agua Project is the focus of an Art Center exhibition at the Cumulus conference, "Young Creators for Better City & Better Life," being held in conjunction with the Shanghai World Expo, at Tongji University, China (September 8 through October 8). During the conference, several panel presentations about the collaboration between Un Techo Para mi Pais and Art Center will bring together the lead creative team of Safe Agua to discuss how design education can be a catalyst for societal change.
"Our ultimate goal is to create one Latin America, without abject poverty, where every family has a decent house and access to opportunities to improve their quality of life," said Julián Ugarte, Director of the Innovation Center at Un Techo para mi Pais "Our work with Designmatters at Art Center has proven that that such a future is possible."
The multifaceted relevance of the overall project is also underscored by the support and endorsement of the Chilean Ministry of Foreign Affairs, which is also supporting Safe Agua in the context of the Chile-California plan. Distributed Art Publishers (D.A.P.) will distribute the Safe Agua book nationwide in Spring 2011. *** Limited copies of the publication are available to members of the media writing about Safe Agua Chile.
The entire Safe Agua Chile project has been well documented by students and faculty on the Safe Agua blog, blogs.artcenter.edu/safewaterchile/, as well as on the Designmatters website, http://www.artcenter.edu/designmatters.
About Designmatters at Art Center (http://www.artcenter.edu/designmatters)
As an educational department and Concentration at Art Center, Designmatters partners with every discipline to focus on art and design education with a social impact agenda and "real-world" outcomes. The work is implemented through a series of unique partnerships and alliances with global development agencies, government groups, academic institutions, local and national non-profits, and leading industry. Through Designmatters, students are invited to apply their talent, creativity and tool-box of skills to address some of the most troubling humanitarian and social challenges of our time with empathy, discipline, and unwavering optimism to effect change.
About Art Center College of Design (http://www.artcenter.edu)
Founded in 1930 and located in Pasadena, California, Art Center College of Design is a global leader in art and design education. Art Center offers undergraduate and graduate degrees in a wide variety of art and design disciplines, as well as public programs for all ages and levels of experience. Renowned for its ties to industry and preparing students for professional practice, Art Center is the first design school to receive the United Nations' Non-Governmental Organization (NGO) status, providing opportunities for students to create design based solutions for humanitarian and non-profit agencies around the world. During the College's 80-year history, Art Center's alumni have had a profound impact on popular culture, the way we live, and important issues in our society.
###