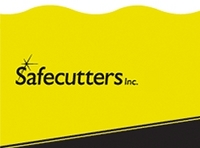 By including the Klever Kutter and its bigger brother, the Klever Koncept, Safecutters offers an outstanding selection of utility knives for online ordering
Muskegon, MI (PRWEB) October 11, 2008
Safecutters Inc. (safecutters.com) provides a user-friendly online shopping experience for anyone seeking utility knife box cutters for opening shipping boxes or packages, as well as safety knives to open moving boxes and packages.
The website's profile section allows new customers to create a profile for efficient online shopping, order tracking, order review and various member benefits.
Klever Kutter, which lasts for hundreds of cuts while remaining safe to the touch, currently offers quantity discounts as follows: 1-99 = $1.96; 100-500 = $1.75ea.; 500+ = $1.59. Please call for discounts on 1000 or more.
The Klever Koncept has all the safety of the Klever Kutter, with a wider cutting area - plus, a longer, more ergonomic handle. Buying Klever Koncept in bulk allows for quantity discounts: 1-99 = $2.19 ea; 100-500 = $1.96. Please call for discounts on 500 or more.
Personalize your Klever Kutters with customized labels. Bulk quantity discounts, include: 100-299 = $0.45 ea.; 300-600 = $0.35 ea.; 600+ $0.25 ea. Please call for discounts on 1000 or more.
The Klever Kutter can be purchased in a trial pack. This includes 10 Klever Kutters and shipping for $19.99.
Be sure to check out the Klever Combo Pack, which includes five Klever Kutters, and five Klever Koncepts. Shipping is included for the price of $24.99.
"By including the Klever Kutter and its bigger brother, the Klever Koncept, Safecutters offers an outstanding selection of utility knives for online ordering," said Tom Fri, Safecutters President. "Customers should check back with our website frequently to stay up to date with our ever changing product line. At Safecutters, we believe in making utility, cutting and packaging knives as safe and useful as possible."
Safecutters Inc. provides an online store of utility knife box cutters for opening shipping boxes and shipping packages, as well as safety knives to open moving boxes and packages. For more information about Klever Kutter and other Safecutters products, visit http://www.safecutters.com
Contact:
TOM FRI
866-865-7171
tom @ safecutters.com
###