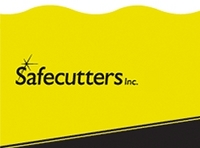 Miskegon, MI (PRWEB) October 11, 2008
Safecutters Inc. (http://www.safecutters.com" http://www.safecutters.com) offers a variety of accessories for utility and packaging knives.
The Safecutters Leather Clip Holster, sold for $4.16 and made in the USA, is made of high quality leather and has a sturdy metal clip for your belt. Its slot is universal and holds most utility knives.
The Safecutters Nylon Holster is equipped with a Velcro to attach to the back of a standard belt or belt loop. Equipped with two pockets for utility knives, safety cutters, pens, and more, it is made in USA and retails for $4.16.
The Safecutters S4 Plastic Holster is the perfect companion for the S4 Safety Cutter. By positioning the S4 Safety Cutter with the button facing inward, the holster automatically retracts any exposed blade. The S4 Plastic Holster sells for $3.85
The Safecutters Klever Kutter Wrist Coil keeps your safety cutting blade close at hand with a uniquely designed key ring attachment. The Wrist Coils are sold by $3,99 per dozen in colors to match the Klever Kutter.
The Safecutters Snappy Hooker Replacement Blade is an ultra-thin, ultra sharp blade that comes in a box of 100 for $19.36. The Safecutters Replacement Blade, for use in S4 Safety Cutters, RZ3 and EZ3, come in a box of 100 for $13.76.
The Safecutters Replacement Blade with blunted tip reduces puncture wounds while maintaining cutting efficiency and is longer lasting than other 0.025 blades. These contractor quality replacement blades are designed to fit all utility knives and are excellent for drywall and utility cutting. The blunted tip replacement blade is packaged in boxes of 100 for $13.76.
Safecutters Inc. provides an online store of utility knife box cutters for opening shipping boxes and shipping packages, as well as safety knives to open moving boxes and packages. For more information about Klever Kutter and other Safecutters products, visit "http://www.safecutters.com."
Contact:
Tom Fri
866-865-7171
tom @ safecutters.com
###