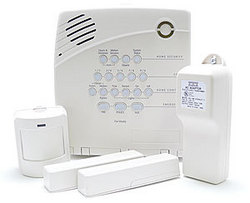 That's why we started with these three systems: to immediately offer assistance to the widest possible audience of homeowners.
Saint Marys, KS (PRWEB) September 18, 2008
SafeMart.com, a leader in the Do It Yourself Home Security Industry released the first three complete DVD installation guides for top of the line home security systems. Intended to help customers "do it themselves," the DVDs examine and cover every step of the installation and programming process.
In an age when educated consumers are increasingly turning toward a do it yourself model of home improvement, the home security industry is no exception. Advanced technology and a wealth of available information allow educated homeowners to install and program their own security systems with relative ease.
However, while security systems are more end-user friendly, many installation manuals are still directed toward professional installers. And while the existing manuals are undoubtedly helpful, many homeowners are still nervous about their ability to correctly install their own home security system. To help these homeowners, and to offer a new level of technical support to those who already feel comfortable doing it themselves, SafeMart.com released the first three DVDs in a series of video installation manuals for some of the top-rated home security systems available.
So far, DVD installation manuals are available for the Ademco Vista 20P, the GE Simon 3, and the GE Simon XT, three of the most popular security systems on the market. "The Ademco Vista 20P is an incredibly popular hardwired system, and GE's Simon 3 and Simon XT are the most popular wireless security systems available," said Joe Thomas, head of technical support at SafeMart. "That's why we started with these three systems: to immediately offer assistance to the widest possible audience of homeowners."
Each DVD is a complete, step-by-step installation guide, walking the homeowner through the entire installation process, from unpacking the security system to advanced programming. The video manuals explain, in detail, how to install and program all common features; and each DVD includes a few of the more commonly chosen advanced applications.
The DVD is free for that particular security system when purchased from SafeMart.com. It is also available for purchase as a stand-alone item. "After we decided to send it to our customers, we thought that we really had something of value to offer to the larger DIY security market; so we're making it available at a low cost to anyone who wants one but didn't purchase their system through us," said Chris Johnson, SafeMart's General Manager.
The DVDs range from from fifty to ninety minutes in length, and were produced by SafeMart's own technical support team. The company is on schedule to produce a full DVD for all major home security systems.
For more information, please contact SafeMart's public relations department online at info@safemart.com or call 1-800-628-6093.
About SafeMart.com:
SafeMart is a home security company with an emphasis on do-it-yourself applications for home and business owners. Over the past five years it has emerged as one of the leaders in this industry. The company currently offers over 2,000 home security and home automation products.
# # #