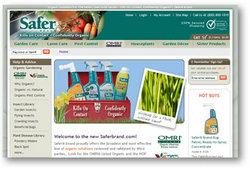 Lititz, PA (Vocus) February 20, 2009
Want a beautiful, healthy garden, but are concerned with using traditional poisons pesticides and salt based fertilizers? We know good, fact-based information is hard to find. The new Saferbrand.com website gives consumers easy online access to products, advice and solutions says Dave Swift, Category Development Manager for Woodstream Corp.
Garden enthusiasts, casual gardeners, and homeowners can logon from their computers for expert tips and advice on organic pest control, organic gardening techniques and organic plant care as well as comprehensive information for diagnosing and solving your garden maladies.
Resources available include an extensive insect & plant disease library, an easy-to-navigate gardening 101 section with basic tips & strategies to a beautiful garden and an entire section on organic gardening practices. Also available is a comprehensive FAQs section and much more.
We understand how confusing the organic and natural market place can be, so we set out to clarify the true nature of organic solutions. Learn about how to identify truly organic products by looking for the OMRI® Listed logo and the USDA National Organic Program validations of true organic. We answer your questions about the difference between organic and natural so you are able to make an informed choice.
Another exciting new feature is the Safer® brand eStore. The eStore is rich with consumer-friendly functionality – videos, instructions, advice on product usage and the ability to read and post consumer reviews. The site offers enhanced search capabilities and an easy-to-use shopping cart and checkout. All transactions are protected by the Verisign® Secured encryption certificate. Also, Saferbrand.com is tested daily to pass the AlertLogic Security Scan by AlertSite®, so rest assured all your transactions are 100% secured!
For more info, please visit:
Saferbrand.com
Organic vs. Natural - Clear Up The Confusion
Organic Pest Control Advice
Safer® brand OMRI® Listed Organic Products
About Saferbrand.com
We are Safer® brand, Concern®, and Victor Poison-Free® - three strong brands recognized as world leaders in the organic insect control, organic plant disease control and organic gardening categories!
We offer the broadest and deepest selection of quality insect control and plant disease control products at competitive prices. Our organic gardening products are targeted to meet the varying needs of you, the consumer! So, whether you are an experienced gardener or novice, there is a product to fit each and every situation.
Safer® brand, has been trusted by consumers since 1976 and is a division of the Woodstream Corporation located in Pennsylvania. For more information visit the new Saferbrand.com or call 1-800-800-1819.
About Woodstream Corp:
Woodstream Corporation is a long-standing, privately held company and a leading manufacturer and marketer of quality-branded wild bird feeders, rodent control products, caring control products for pets and wildlife and organic solutions for lawns & gardens.
###