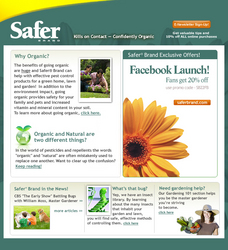 Having a presence on Facebook and Twitter allows Safer Brand to communicate directly with our users
Lititz, PA (Vocus) December 19, 2009
Safer® Brand, the popular line of OMRI Listed® organic, patented home pest control and lawn and garden products, has established its presence on facebook and twitter, with exclusive discounts, seasonal pest control tips and promotional offers.
Safer Brand fans and green-minded gardeners can now follow Safer Brand on Twitter aand become Facebook fan. To mark Safer Brand's presence in the online, social community, Facebook fans and Twitter followers can now redeem a 20% discount at SaferBrand.com.
"Having a presence on Facebook and Twitter allows Safer Brand to communicate directly with our users," stated Theresa Flavin, Category Development Associate for Safer Brand. "It's a simple and effective way for fans and followers to become part of our growing organic community and receive up-to-the-minute lawn and garden care tips, green living resources and access to exclusive discounts"
Safer Brand is already making the most of its Twitter following and Facebook fan page. Recent Tweets include hints on caring for poinsettias, links to the Safer Brand library to help gardeners identify pests through photos, and organic gardening tips from the company's Confidently Organic section on Facebook.
These contributions should be a welcome addition to the organic community within the social media sphere. Safer Brand's parent company, Woodstream Corporation, is committed to giving home gardeners the option of controlling pests and plant disease with earth-friendly yet effective organic formulations.
Safer Brand organic gardening and pest control products carry the prestigious OMRI Listed designation from the Organic Materials Review Institute (OMRI) and are approved by the USDA's National Organic Program.
Along with having access to timely organic gardening information and exclusive offers for Safer Brand products, Twitter followers and Facebook fans can share their own organic gardening, pest control and lawn care tips with other fans at the Safer Brand Facebook page. Fans or followers who join early will be able to take advantage of discounts from day one.
For more information, please visit:
Safer® Brand Web Site
Facebook Website - Safer Brand Fan Page
Twitter Web Site - Safer Brand