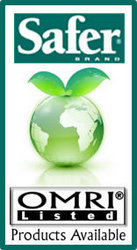 Lititz, PA (Vocus) March 2, 2009
Learn how you can be greener in only 5 minutes! A recently aired segment of the TV show Designing Spaces discusses organic alternatives in gardening and pest control practices and provides quick, easy-to-follow tips to maximize the results of these environmentally-friendly products in your garden.
If you are serious about going "Green" in your yard, do not miss Designing Spaces' host Jodi Dombrowski and Woodstream Corp's Karolyn Warfel in this very informative 5-minute segment.
Safer® brand is a leading manufacturer of organic insect control, organic plant disease control and organic gardening care products. Most our products proudly display the OMRI Listed® organic seal and comply with NOP for use in organic gardening!
For more details, please visit:
Saferbrand.com
Organic Pest Control Advice
About Saferbrand.com
We are Safer® brand, Concern®, and Victor Poison-Free® - three strong brands recognized as world leaders in the organic insect control, organic plant disease control and organic gardening categories!
We offer the broadest and deepest selection of quality insect control and plant disease control products at competitive prices. Our organic gardening products are targeted to meet the varying needs of you, the consumer! So, whether you are an experienced gardener or novice, there is a product to fit each and every situation.
Safer® brand, has been trusted by consumers since 1976 and is a division of the Woodstream Corporation located in Pennsylvania. For more information visit Saferbrand.com or call 1-800-800-1819.
About Woodstream Corp:
Woodstream Corporation is a long-standing, privately held company and a leading manufacturer and marketer of quality-branded wild bird feeders, rodent control products, caring control products for pets and wildlife and organic solutions for lawns & gardens.
###