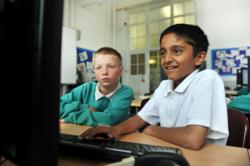 What better way to reward children and young people for sharing, safely!
(PRWEB) November 30, 2012
Digital Badges are being awarded to young people who 'Connect with Respect' as part of a Safer Internet Day campaign being run by Safe, the Certificate in Social Networking, and Makewaves, the award winning social learning environment.
The Safe SID Badge will be awarded to young people who follow the 2013 Safer Internet Day (SID) theme by commenting on debates and uploading their own media to a dedicated channel on the Safe Network within Makewaves.
Digital badges are an innovative way of rewarding safe and positive use of social networking. The accreditation system will use Mozilla's exciting Open Badges technology which, was launched in 2011 and has the potential for officially recognising the skills and achievements gained by learners (students and teachers) both in school and beyond.
Schools will be able to explore the issues around online rights and responsibilities with pupils and students, and the digital Safe SID Badge 2013 will be awarded and displayed on successful reporters' profile pages on Makewaves.
Leading e-safety expert Alan Mackenzie said: "Sitting children and young people in a classroom and 'teaching' e-safety is an ineffective way of empowering a life-skill.
"Safe and Makewaves have taken this to the next level by creating a learning environment where the safe use of digital media is the cornerstone of learning. For the landmark 10th year of Safer Internet Day on 5th February 2013, Safe and Makewaves are encouraging children and young people to "Connect with Respect"; working collaboratively to create, upload and share digital content and at the same time earn a fabulous digital badge for all their their hard work."
He added: "What better way to reward children and young people for sharing, safely!"
Schools new to Makewaves can sign up for free social media tools to enable safe and easy publishing of podcasts, videos and blogs. Teachers can moderate students' work and control who can see it. By joining the Safe Network, schools can also access video tutorials, resources to download and certificates to award on completion of the Safe activities.
The 10th annual Safer Internet Day will be celebrated on February 5th 2013, with organisers Insafe hoping to make the event "bigger and better than ever before".