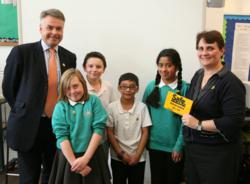 Schools play a crucial role in raising awareness and delivering safety messages to young people and their parents.
(PRWEB) July 03, 2012
On Thursday 28th June, pupils from Riversdale Primary School were invited on the request of the Children and Families Minister Tim Loughton MP to attend the UKCCIS 2012 Summit. They performed two e-safety dramas as well as demonstrating the skills they have learnt through complete the Safe programme - The Certificate in Safe Social Networking.
During the young people's participation of the UKCCS Summit, Riversdale pupils were asked:
1. What is the right balance between the uses of technology and parental supervision to keep children safe online?
2. How can young children be better protected from harmful content on the internet, particularly on social networking sites?
3. What can we do to make sure younger children are using the internet safely
Activity from the Summit can be found at http://www.radiowaves.co.uk/nspire.
Riversdale Primary School were chosen to attend because of their efforts to encourage and teach safe social networking.
Tim Loughton, Parliamentary Under-Secretary of State for Children and Young Families, recently visited Riversdale Primary in Southfields, south west London to present their Safe School Award and Safe Certificates in recognition of the e-safety activities the pupils and teachers have achieved. Mr Loughton watched an e-safety drama assembly and made the presentations to the children and gave the Safe School Award to Deputy Head Teacher, Amy Barton. He spoke to the whole school about the importance of staying safe online and took questions and answers from a group of young reporters who also shared with The Minister the online activities they did to receive their Safe Certificate.
In return, the children thanked Mr Loughton for coming to their school and gave him a gift of jelly babies, a known favourite of The Minister.
UKCCIS Evidence group stated at the UKCCIS Summit "Schools play a crucial role in raising awareness and delivering safety messages to young people and their parents. Each should develop an e-safety policy, and each should support the development of functional and critical digital literacy and internet safety skills across the curriculum."
Riversdale Primary School, is just one of many schools who are taking the responsibility on to teach their pupils and the parents about online safety and are using the Safe resources as part of their school's e-safety policy.
Safe is a programme of practical activities that develop young people's skills, self-confidence and safety awareness when using social networking sites. Safe has been developed by DigitalMe, a not for profit organisation dedicated to using new technology to create engaging learning experiences. (http://www.digitalme.co.uk)
Designed to work on social networks, Safe gives teachers the free materials and resources to enable a school to deliver fun activities, which develop their pupils' digital literacy skills. Children learn about how to stay safe when creating an online profile and image, what to include in a blog, where to share media and who to make friends with on social networks.
By completing the programme pupils gain a Safe Certificate as evidence of their learning.
Tim Loughton, MP, who co-chairs the UK Council for Child Internet Safety (UKCCIS), campaigns for the teaching of e-safety in school:
"The arrival of new technology almost invariably offers far more opportunity than it does risk – and never has this been more true than it is today in the world of education...it's about how we help young people to benefit from innovation safely. The time has come to ensure that children and young people are able to take advantage of the wonders that technology brings – without the dangers." (BETT)