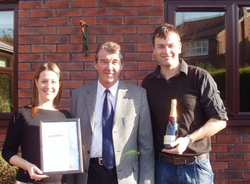 The best bit is that originally we had only planned to replace the windows at the rear of our house but now we can afford to do the front as well!
(PRWEB) February 19, 2008
Stuart and Sharon Parker have hit the jackpot by becoming the first winners of Safestyle UK's new Diamond Account Club quarterly prize draw and having their £4000 account balance for installation of energy-saving double glazing at their Worcester home paid off in full.
The Safestyle Diamond Account Club was started in November 2007 to provide added benefits to people who purchase their windows and doors on Safestyle UK's flexible finance package. This includes a quarterly prize draw in which the winners qualifying to have their entire outstanding payment balance paid off in full.
The draw took place earlier this week with Stuart and Sharon Parker of Worcester emerging as the lucky winners - having a balance of more than £4000 being written off by the nation's leading energy saving windows and doors retailer, Safestyle UK themselves.
Mani Bhatoa, Head of Safestyle UK marketing, commented: "It's fantastic that we can offer loyal customers the opportunity to be part of this. Membership take up on the Diamond Account Club has been beyond expectations and I know many customers are taking full advantage of the benefits on offer. Informing Mr. and Mrs. Parker that they had been drawn as the winners of the prize draw was a real pleasure."
A delighted Stuart Parker added: "We moved to Worcester two years ago and have been saving up to upgrade our windows since. This really is a fantastic way to start the year. I was always sceptical about any competition believing the offers were not real. How wrong can you be?"
"The best bit is that originally we had only planned to replace the windows at the rear of our house but now we can afford to do the front as well!", he added.
The Diamond Account Club qualifies club members to automatic entry into the prize draw but also incorporates partner companies providing customers with the opportunity to gain fantastic discounts from companies such as Club Seasons, Cheapflightseats.com, 247blinds.co.uk and Gorvins Solicitors.
The next Diamond Account Club prize draw will be taking place on May 01st 2008.
About Safestyle UK:
Safestyle is the UK's largest independent manufacturer and supplier of PVCu windows and doors. Since its inception in 1992 the Group has continued to expand in tune with customer needs and now has more than 40 branches across the country from the South West to the North East serviced by an in-house transport fleet. The Group incorporates two specialist companies catering for manufacture and retail.
The Safestyle retail arm is synonymous with quality and affordability and installs £2m worth of domestic windows and door frames every week on the back of top celebrity-fronted television and radio advertisement campaigns.
The company also has a manufacturing arm and its state-of-the-art factory at Wombwell, near Barnsley in South Yorkshire produces more than 6,000 quality assured frames per week. It is the area's largest single employer.
For further information please contact:
Ashley Metcalfe
Real Affinity
01132 908761
###