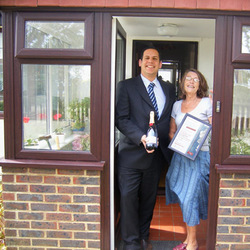 The prize draw aspect is a fantastic additional bonus and we're all very proud of how the scheme is making a positive difference for our customers
(PRWEB) August 22, 2008
Gloria Brennan of Peacehaven in East Sussex has become the latest winner of Safestyle UK's Diamond Account Club quarterly prize draw, having her entire £1408 account balance for installation of Safestyle's energy-saving double glazing paid off in full.
Gloria became only the third ever winner of The Safestyle Diamond Account Club which was started in November 2007 to provide added benefits to people who purchase their windows and doors on Safestyle UK's flexible finance package. This includes a quarterly prize draw with the winners qualifying to have their entire outstanding payment balance paid off in full.
The draw took place earlier this week with Mrs Brennan emerging as the lucky winner -- having a balance of £1408 being written off by the nation's leading energy saving windows and doors retailer, Safestyle UK themselves.
A delighted Gloria commented "This was a wonderful treat and I am sincerely grateful. I have been extremely pleased with both new porch and lobby doors and window. Safestyle have been a pleasure to deal with ... This win is the icing on top of the cake".
The Diamond Account Club qualifies members to automatic entry into the prize draw which also incorporates partner companies providing customers with the opportunity to gain fantastic discounts on various goods from holidays to new window blinds.
Mani Bhatoa, Head of Safestyle UK marketing, commented: "The Diamond Account scheme is designed to enable us to offer our customers a little bit more than the norm. It also helps us ensure that double glazing remains highly affordable, giving everyone the chance to combat ever increasing energy bills." "The prize draw aspect is a fantastic additional bonus and we're all very proud of how the scheme is making a positive difference for our customers", he added.
The next Diamond Account Club prize draw will be taking place in November 2008.
# # #