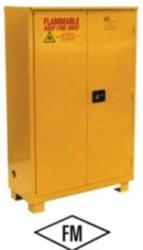 Safety Cabinets Save Lives. Customers need them by right and law
Boston,MA (PRWEB) March 01, 2012
A Plus Warehouse wants all customers and companies to know the importance of safety cabinets in industry. To do this, A Plus Warehouse is announcing The American Safety Cabinet Month. For the month of March , A Plus Warehouse salespeople will have a focus on educating and helping customers understand the importance of safety cabinets and flammable liquids cabinets in their operations.
A very interesting thing about safety cabinet, is that they can well be a life and death purchase. Not to be overly dramatic, but the downside of NOT ordering a roller conveyor is a drop in plant efficiency. The downside of NOT ordering dollies is people lifting and spending too much time manually moving items. The downside of NOT ordering an OSHA / NIOSH safety cabinet is an uncontrolled industrial fire that can cost property and lives.
According to Ed Stairman, President of A Plus Warehouse," Safety Cabinets save lives. Customers handling flammable liquids need them by right and by law!" Mr. Stairman's opinion is that natural law dictates even over state and regional law demands the proper use of safety cabinets. If a company owner doesn't do all he possibly can to keep workers safe, he is truly being penny wise. There are two types of safety cabinet that are quite popular – these are manual closing and self closing door varieties. It is commonly known that fires require 3 things to live – Fuel , Ingition and Air. The fuel is the flammable gas or liquid being stored. The ignition can be a spark from static electricity or any manufacturing process, and the air is what an open door allows in.
A Plus Warehouse always suggests using self closing doors. A safety cabinet with self closing doors is more expensive than a manually closing door, self closing has a great feature. When the door closes, air is removed from the fire triangle and the fire goes out. With a manual safety cabinet, a person needs to shut the cabinet door for the fire to extinguish. Who is the person that must run through a building on fire closing doors?
With a self closing safety cabinet, the cabinet can extinguish a fire before too much damage is done! Remember to NEVER have any obstacles in from of an open door. Self closing doors are spring loaded, but have only so much closing force.
About A Plus Warehouse:
http://www.apluswhs.com is a nationwide dealer of industrial equipment including Hazardous Materials Cabinets. They have a highly trained staff and are ready to help with your needs
###