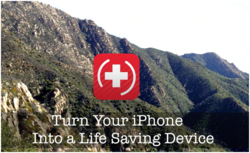 "Be adventuresome and keep safe with iCall4Help." - Carol Kosterka, app creator.
Santa Barbara, CA (PRWEB) February 19, 2013
Danny Boyle's Academy Award nominated film, "127 Hours," is an extraordinary movie based on a true story from the book "Between a Rock and a Hard Place." In this survival drama James Franco plays the role of Aron Ralston, who is a mountain climber and finds himself trapped by a fallen boulder which crashed on his arm in an isolated canyon in Utah. He shouts for help, but no one could hear him. Aron has limited inventory and a ticking clock against him. Over the next five days the film captures raw survival in the wilderness, unthinkable suffering and the necessary action Aron has to take to survive.
The issue raised in the movie is profound. Aron Ralston says "I figured out what was important to me...my family, my friends, the people I appreciate." The story reveals that Aron went out hiking without telling anyone. His mom calls him, his sister calls him but without luck - all they get is the voice message of his answering machine.
There is now an intelligent iPhone safety app specifically designed for preventing such circumstances from occurring. With iCall4Help one can always feel connected and protected. iCall4Help was created to be there for everyone in the worst moment possible. This smart application is perfect for when one is helpless, vulnerable and needs rescuing. iCall4Help keeps one on the grid. It does so by sending messages to unlimited number of contacts in 4 different ways: by phone, text, voice and email. It can even do so automatically - just set the time when an alarm should be triggered. So if one isn't physically able to make a call or has no cellular reception signal the app knows exactly what to do. The app can also tell one's contacts the most recent map location so that one can be found.
iCall4Help service is available 24 hours a day, 7 days a week, 365 days a year on a secure and reliable server. It provides independence and confidence and gives peace of mind for loved ones. The app is smart, global, unlimited and customizable. It sets up in minutes and is easy to use. It gets help quickly when needed. There are no monthly fees or contracts, no installation of equipment is necessary and there are no wearable devices, bracelet or necklaces required.