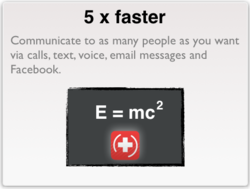 We all know and love Facebook. Our users can now utilize this powerful social tool to reach out for help. - app creator, Carol Kosterka.
Santa Barbara, CA (PRWEB) May 02, 2013
In essence iCall4Help safety app is a messenger that sends out an unlimited number of alerts when the user is in distress and needs help. The iCall4Help is intended to be a helpful social service for everyone, regardless of the age group or life style.
The app works in two ways: manually and automatically.
The manual function works with only one tap of a button. Manual activation is designed for such situations as 9-1-1 emergencies, health-related incidents, falls, serious accidents, dangerous conditions and any other instances when immediate help is necessary. Once the button is pressed, a 10-second timer begins to count down. During this time, the user could cancel the call for help in case it was accidentally activated or if something has significantly changed in the circumstances of a particular situation. If however, the 10-second timer runs out, the emergency alert instantly gets activated and sends notifications to the group of selected contacts. The app is set up to work internationally and immediately connects the user to any number of people anywhere on the globe. iCall4Help is GPS-enabled and shares the user's most recent map location so that their family, friends and emergency responders can locate and help them.
Alternative to the manual function, the user can set up an automatic feature - a scheduled alert that will self-activate automatically and send out notification alerts in case the user is unable to call for help for some reason. This is designed for any timed activities such as getting home safe after school or driving late at night. It also works great for outdoor and adventure activities such as hikes, rides, climbs, blind dates, and many kinds of extreme or risky activities where the user may be unable to call for help. The app basically checks on the user at a scheduled expiration time. The expiration time is the final dead-line set by the user to determine whether to call for help or not. If the user does not respond "I'm OK" to the app at expiration time, the alarm automatically sends out alerts on the user's behalf. With this automatic feature, every iPhone user can have a mobile version of a personal guard system that protects them constantly and is always there, 24/7, 365.
iCall4Help is a relatively new app. When it was launched in December of 2012 it offered four ways of reaching out for help: calling, and unlimited texting, voice and email messaging. It now offers a 5th way of connecting via Facebook. We all know and love Facebook. Our users can now utilize this powerful social tool as well to reach out for help.
While our ultimate goal is an app that communicates at the speed of light, for now we are combining as many communication styles as possible and aggregate them into one - iCall4Help. Users can select their preferred way to reach out, whether it be calling, SMS or emailing and add as many contacts as they feel is necessary to any group or event. Technology has the exponential power to integrate communication methods and when it comes to getting help fast, time is of the essence. This is an important milestone and our company is proud to add Facebook as the 5th feature. As a result, getting help is now 5 times faster. In a urgent situation, when every second counts and determines a positive or negative outcome, iCall4Help can definitely make a difference. Give it a try. And even if it never gets used, which hopefully is the case, it will be available anyway, just in case.
The iCall4Help service provides independence and confidence and gives peace of mind for loved ones. It sets up in minutes and is easy to use. It gets help quickly when needed. There are no monthly fees or contracts, no installation of equipment is necessary and there are no wearable devices, bracelet or necklaces required.