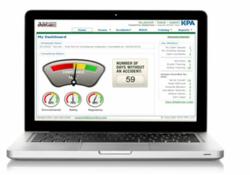 Safety issues are a lot more complicated for dealerships than they were even five years ago
Lafayette, CO (PRWEB) July 26, 2011
Safety innovations in new cars get a lot of attention, but there is another kind of safety innovation happening at dealerships across the country. Environmental Health and Safety (EHS) practices are getting a close look, and a big overhaul.
"Safety issues are a lot more complicated for dealerships than they were even five years ago, so it makes sense to have an online solution that can take in huge amounts of information and translate it into a simple dashboard for each dealership," explains Eric Schmitz, Vice President of Product Development at KPA , "The dashboard works because it gives managers the big picture about worker safety conditions, just like the dashboard in a car gives drivers the big picture about the engine working conditions."
Behind the dashboard is the myKPAonline software that gathers regulatory information from sources like OSHA, EPA, DOT, FAA, and state-based agencies. It matches the regulations with common processes and automotive tools at dealerships, service centers, body shops, and commercial garages. The program rates risk levels and ranks importance for addressing each issue. KPA Safety Engineers across the country visit dealerships in the system to ensure accuracy, and review onsite safety issues that have been recorded in the dashboard. While onsite, the engineers also check-in with managers, monitor progress for the dealership's ongoing safety initiatives, lead safety meetings, and even conduct training sessions.
Peter Zaidel, product manager for myKPAonline, just announced upgrades to the software, "We noticed that even with the system, some dealerships were taking a while to address issues, and during that time, even smaller problems can have a higher risk factor," which is why the upgraded system empowers managers at the dealership to assign safety issues to individual staff members. "Giving workers project ownership gets them much more involved, it builds a safety culture, and we have seen that it changes their behavior in the work environment. It keeps them thinking about safety first- which is actually what makes this safety innovation more like a safety revolution," explains Zaidel.
About KPA
KPA helps businesses reduce losses, attain compliance with state and federal law; reduce the risk of accidents, fines, civil actions, and litigations while saving costs. Over 3,500 clients trust KPA to provide the right combination of training, software, and expert advice. Endorsed by 21 national and state trade associations, KPA is the only provider of Environmental Health and Safety (EHS) and Human Resource (HR) services and software designed for the specific requirements of dealerships, manufacturers, and automotive services companies.
For more information please visit http://www.kpaonline.com, or contact Eric Schmitz, Vice President of Product Development at KPA, directly at eschmitz(at)kpaonline(dot)com, or 303-226-8766.
###