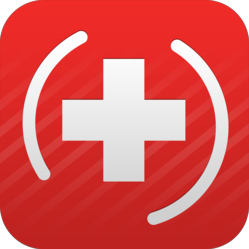 The iCall4Help app is so much more than 911. -Jack H. Sheen, M.D.
Santa Barbara, CA (PRWEB) January 22, 2013
iCall4Help by The Dreaming Redhead, LLC is a new globally enabled safety app that can keep users and their loved ones safe in case of an emergency. Turn your iPhone into a life saving device.
With the new emergency app iCall4Help, users can easily call for help whenever they need it—and in case they can't call for help, the app does it automatically, notifying family, friends, neighbors, co-workers or doctors immediately and simultaneously. You can also share your location via GPS.
The easy to use iCall4Help app relies on an innovative and smart 'Check on Me' feature where the user sets a time for an activity to be completed and at the end of that time is prompted by the app to confirm their safety. If the user does not respond to the alert to confirm their safety with an 'I'm OK,' their pre-set contacts are instantly notified.
iCall4Help is a safety app perfect for anyone who lives or travels alone as well as individuals who are at risk of a health emergency. The emergency app is also ideal for parents seeking a routine way to check on their children's safety and may be used as a child reminder aid.
Not only is iCall4Help useful during times of crisis it is a helpful tool to connect with many people at the same time.
"Emergencies occur in many forms and with iCall4Help you can now feel secure that you'll get help when you need it—whether you're experiencing a medical emergency or you're someone who lives, plays or travel alone," says app creator Carol Kosterka.
With iCall4Help, users can:
Keep in touch with a child after school
Alert a spouse of a household crisis
Contact loved ones in a medical emergency
Inform neighbors of a suspicious activity
Alleviate worry for an elderly parent
Stay connected with a friend who lives alone
Feel safe during a blind date
Securely enjoy an outdoor activity
iCall4Help is compatible with iPhone 3GS, iPhone 4, iPhone 4S, iPhone 5, iPod touch (3rd generation), iPod touch (4th generation), iPod touch (5th generation) and iPad. Requires iOS 5.0 or later. Download the app today at https://itunes.apple.com/us/app/icall4help/id580935128?ls=1&mt=8#.
About iCall4Help:
iCall4Help is fast, simple to use and could be crucial in an emergency. It's an extraordinary and revolutionary way to call for help whenever you need it. And when you can't call for help, the app will do it for you.
With the push of one button you can simultaneously call one person and summon help from unlimited persons via voice messages, text messages and emails.
iCall4Help is customizable to your individual circumstances, unique lifestyle and everyday activities. This will be invaluable to those who have children or elderly parents with medical conditions, those who live alone or travel alone or participate in physical activities such as running, bike riding or hiking. Who benefits? Everyone.
The smart timer feature will verify that you are OK at a scheduled by you time and alert your contacts that you might need help only in case you do not respond to the alarm.
Help is on the way.