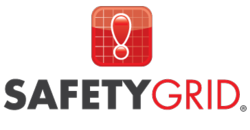 Our goal is to provide a very cost effective, simple to use and rapidly deployed system based on proven systems and services to address this very significant need in our communities."
Chesterfield, Michigan (PRWEB) January 11, 2013
SafetyGrid, a provider of personal safety Apps for mobile devices has announced its newest offering called SafetyGrid Group Security (SafetyGridGS).
SafetyGridGS, is a mobile app and service that allows schools and businesses the ability to leverage smart phones and tablets to act as mobile silent alarms. Alarms from the school or business are monitored 24/7 and simultaneous alarms from a site can be aggregated into a single view by the alarm monitoring center managed by the GEOS International Emergency Response Coordination Center (IERCC).
The monitoring center will then immediately act based on a predetermined protocol such as contacting the appropriate authorities and notifying other key contacts. The app, when activated, will instantly notify the alarm center and each of the other members of the group security system. Alarms are silently and visually acknowledged on the phone or tablet screen in order to provide assurance to the person activating the emergency alarm that their request has been received and that help is on the way.
In addition to visual notification, the system will also support the ability for 2 way textual communication to the response center as well as the option to send visual and audio streams to the center providing real-time intelligence of the incident being reported. The response center then effectively becomes a central point of intelligence to the first responders, relaying information in real time as it's received.
"It's not intended as a replacement for existing security systems but as an enhancement to systems that may already be in place. Our goal is to provide a very cost effective, simple to use and rapidly deployed system based on proven systems and services to address this very significant need in our communities". Says Jim Hankins, President and Founder of SafetyGrid.
The system improves safety in 3 key areas.
1. Increases speed of notification to first responders by providing additional and alternate path methods of requesting help in an emergency.
2. Improving the speed at which an emergency in progress is disseminated to others in the vicinity by providing rapid notification via the mobile app and acting as an an alternate path if other systems have failed.
3. Provide a single point of contact to first responders via the advanced monitoring center to provide information such as location of those inside, captured imagery and audio and 2 way textual communication
SafetyGrid is currently working with school administration and law enforcement organizations to begin pilot deployments in the Houston, Texas and Detroit, Michigan areas. Schools located in these markets that are interested in participating in a pilot can sign up for more information on the SafetyGrid website at http://www.safetygrid.net. Geos website http://www.geosalliance.com
SafetyGridGS apps and service will be available in the coming weeks upon completion of the pilot programs. Pricing for the software and service has not yet been finalized. There will be discounts for educational institutions.
SafetyGrid is a DBA and registered trademark of All Points Media Works, LLC of Michigan.