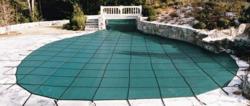 St. Paul, Minnesota (PRWEB) July 31, 2012
PcPools, one of America's leading direct marketers of swimming pool products and accessories, announces that it is an authorized dealer of Arctic Armor™ in ground safety pool covers. PcPools offers Arctic Armor™ safety covers in mesh or solid styles backed by either a 12 or 15 year warranty. Each cover is made of superior, long-lasting fabric that is resistant to rears, rips, chlorine, and sun damage.
All pool safety covers enhance safety by keeping people and animals out and help decrease maintenance by blocking out debris. Arctic Armor™ covers, however, are a cut above due to their strength, durability, and price. Each easy to install safety cover includes brass anchors, stainless-steel springs, an installation tool, and a storage bag. Consumers seeking advice or information on the differences between the mesh and solid covers should consult PcPools' Mesh vs. Solid Safety Pool Covers article.
Marketing Director Steven Anderson had this to say about being named an authorized dealer: "In ground pool owners have long trusted Arctic Armor™ pool covers to keep their swimming pool area safe. Arctic Amor™ safety covers protect pools from unwanted intrusions whether it's a curious child or nature's elements. Their covers add tremendous value to any swimming pool area and we are pleased to be able to offer these highly rated, high quality covers to our customers."
About PcPools
PcPools is one of America's leading multi-channel direct marketers of swimming pool supplies and equipment to the residential and commercial markets in the United States. Founded in 2000 by a leading executive in the pool supplies industry, it has since been dedicated to providing residential and commercial pool owners with high quality swimming pool supplies and equipment at warehouse direct prices. PcPools' product line – all of which is sold through our catalog and internet channels – includes above ground pools, automatic pool cleaners, pool liners, pool heaters, pool chemicals, pool covers, and other pool accessories. PcPools' strong relationship with leading pool supply manufacturers and distributors creates a truly unique combination of quality product at excellent value for its customers.
About Blue Wave Pool Products
Blue Wave Pool Products, owner of Arctic Armor™, is headquartered in St. Charles, IL. It is a leading distributor and manufacturer of pool products and supplies to swimming pool retailers across the United States. Blue Wave Pool Products manufacturers and/or distributes above ground pools, in ground pools, replacement pool liners, pool equipment, pool covers, pool chemicals, supplies, and backyard living products.
Note to Editors: If you are interested in viewing addition information about PcPools or Blue Wave pool products please visit following websites: