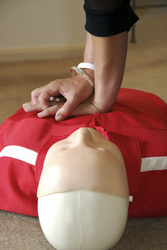 San Francisco, CA (Vocus) March 14, 2010
Safety Training Seminars hopes that this new found knowledge will encourage bystanders to help a stranger if they collapse. Not only is hands-only CPR easier to remember, but it also eliminates the fear or aversion to having direct mouth contact with a stranger. Also the fear of doing something wrong and hurting the victim is lessened. One only needs to remember to call 911 immediately and push hard and fast (about 100 presses a minute) on the victim's chest.
The reason that compression only CPR works is that with a cardiac arrest victim there is still enough air in their lungs to keep blood flowing to the heart, brain and other major organs. Sadly the compression only technique will not work on children or drowning, carbon monoxide exposure, or drug overdoes victims. For these people traditional CPR is the only way to save the victim's life.
A statistic that is sad but true is that around 310,000 people die in this country every year of cardiac arrest. As one could assume most of these people go into arrest outside of a hospital setting and of that group only 6% survive. Any form of CPR treatment right away will double or triple the victim's survival rate.
The best thing anyone can do is be prepared. http://safetytrainingseminars.com/ offers to host on site classes for businesses, day care facilities, and Doctor's offices. CPR certification does requires few hours out of the day every year or two, but the reward of possibly saving a life will always be priceless.
###