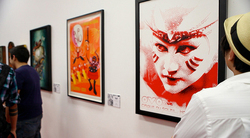 Montreal (PRWEB) March 29, 2011
Each month, SAFEWALLS mandates three visual artists in a predetermined city to create the original, alternative art posters. With these artworks, SAFEWALLS tours the world following the trail of Cirque du Soleil shows to hold a monthly exhibition that grows in size as works from previous cities are added to the collection.
SAFEWALLS was in London in February with artists Jon Burgerman, Shag and Sweet Toof while the show TOTEM was in town and then few out to Houston in March while the show OVO was in that city and exhibited the posters of artists El Mac, Glenn Anderson and Jason Limon. SAFEWALLS will head out to Madrid in April where Corteo will be playing.
Collectable art
Limited-edition prints of the posters are available at safewalls.org or at public exhibits where SAFEWALLS is touring. Two editions of the posters are available: hand-pulled, blind-stamped, signed screen prints with Certific as well as giclée prints. All are numbered and limited edition.
Celebrating street art and the circus poster
By bringing Cirque du Soleil and visual artists together, SAFEWALLS not only celebrates street art, it breathes new life into the time-honoured art form that is the vintage circus poster.
The circus poster has had a long and colorful history. With the invention of printing, circuses all over the world were able to produce posters in large quantities for display in public places to attract the attention of passers-by. Generally created by local artists, these visually striking works were the ambassadors of traveling big-top circuses and spread the word of their imminent passage in a city. Today, vintage posters have tremendous appeal worldwide as collectable art.
"Circus posters are all about mindboggling acrobatics, raw entertainment and the suspension of disbelief," said Yan Cordeau of the SAFEWALLS Project. "And like street art, they elicit the reactions of onlookers, drawing them into alternative worlds and stretching their imagination."
Information for the media:
http://www.safewalls.org