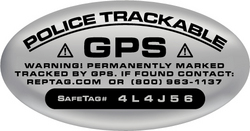 Safeware's protection of our customers' assets was already industry-leading, but now it has reached a whole new level.
Columbus, OH (PRWEB) March 15, 2010 –
Safeware, The Insurance Agency Inc. today announced a new strategic partnership with MyLaptopGPS, designed to offer ultimate and combined hardware and data protection for laptop and desktop computers.
Safeware is the nation's largest provider of specialized insurance programs designed to protect the investment of consumers who purchase laptops and desktops. Safeware's policies protect the hardware in the event of accidental damage, liquid spills, theft, fire, flood, power surge and much more. Safeware's partnership with MyLaptopGPS™ takes the protection even further, with six full layers of security designed to prevent theft in the first place, track lost and stolen assets covertly, and recover stolen data.
MyLaptopGPS boasts a remarkable 0.4% real-world theft rate, thanks to its six-layer approach to laptop security. The system begins with theft-deterrent SafeTags™, which are permanent property labels that bear globally-unique tracing numbers. SafeTags enable the MyLaptopGPS SafeRecovery Team™ to trace and identify lost or stolen property offline, but in the event a theft does occur, MyLaptopGPS software tracks the stolen machine worldwide and, most importantly, remotely recovers the data even while in possession of the thief, then destroys it on the machine. This returns the data safely to the rightful owner and ensures that a thief has no access. With users in 18 countries across six continents, MyLaptopGPS is a renowned worldwide data protection solution.
"Safeware's protection of our customers' assets was already industry-leading," said James Johnson, Chief Operating Officer of Safeware, "but now it has reached a whole new level. We now protect our customers' data, which is worth up to 300 times more than the hardware alone, and we can prevent 99.6% of thefts in the first place. This protection package is the premier solution in the marketplace today."
In addition, Safeware announced a 10% policy discount to any new or existing customer that purchases the product. Said Johnson, "We are confident in MyLaptopGPS' theft prevention and recovery prowess, and this discount is a way of showing our clients that we mean business and take their protection very seriously."
Dan Yost, Chief Technology Officer of MyLaptopGPS, agreed. "We applaud and admire Safeware for taking a leadership role in the movement to protect consumers and businesses alike from identity theft, hardware loss and data breaches, and for stepping up to provide comprehensive, effective safeguards. It's a great day to be a Safeware client."
For more information visit Safeware at http://www.safeware.com/mylaptopgps, or call 1-800-800-1492.
About Safeware:
Safeware Insurance is the nation's largest provider of specialized insurance programs designed to meet the demands of computer, electronics and high-tech equipment owners. For over 26 years, Safeware's ongoing success is attributed to its ability to offer affordable, comprehensive, value-added insurance coverage for computers and mobile electronics, while maintaining best of class customer service and satisfaction. Safeware's goal is to provide a higher level of protection and peace of mind for the electronics consumer.
About MyLaptopGPS:
Celebrating 25 years in business, Tri-8, Inc. (DBA MyLaptopGPS.com) has specialized in complete system integration since its founding in 1984. From real-time electronic payment processing software to renowned mid-market ERP implementations, the executive team at MyLaptopGPS has been serving leading enterprises and implementing world-class data systems that simply work. With MyLaptopGPS, Tri-8, Inc. brings a level of expertise, dedication, knowledge and service that is unmatched. MyLaptopGPS' rock-solid performance, security, and reliability flow directly from the company's commitment to top-notch software products and services.
# # #