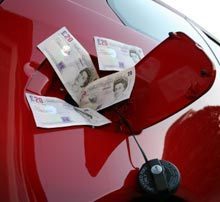 a contrarian philosophy of smaller, lighter, cheaper.
(PRWeb UK) July 6, 2009
The Tata Nano was recently launched as the world's cheapest ever car. Currently, it's only available in its native India but its manufacturer has aspirations to unleash it on the West. Butl, without putting too fine a point on matters, India's vehicle safety regulations aren't quite as stringent as they are in Europe and the UK.
Under Indian regulations, the Nano doesn't have to undergo vehicle crash testing, apart from frontal impact. Airbags, rear seatbelts and anti-lock braking systems are not mandatory either. By adding such items, the price tag soon begins to increase.
Other features, which may be added to the European version of the Nano include, air conditioning, a CD player, alloy wheels and wait for it…a left hand side wing mirror.
So what's all the fuss about?
The Nano is being heralded as something of a motoring revelation. Newsweek calls it part of a "new breed of 21st-century cars" that embodies "a contrarian philosophy of smaller, lighter, cheaper." Saga agrees, as not only are maintenance costs lower for these little cars, but car insurance will all cost less.
Could the UK soon be enjoying a car that carries a tiny price tag, low running costs and cheaper car insurance?
Saga reveals that the Nano also saves on costs by incorporating some very novel, if somewhat unexpected design elements. The Nano's boot doesn't open; instead you can access the boot by folding down the rear seats. It has one, single long-reaching windscreen wiper instead of the usual pair. There's no power steering, but seeing as the engine weight is in the rear of the car, the steering is still quite responsive. It only has three securing wheel nuts in place of the statutory four. For frugality's sake, the Nano is powered by a twin cylinder 33BHP engine, and here's the really unconventional bit, some exterior panels are glued together rather than welded.
Will the Nano be the latest, most popular Indian take-away?
Despite the glue and its lack of luxurious extras, the Nano is a real car. Not the flimsy affair with the handling of a roller skate that many motoring commentators had predicted. Will it sell though? Perhaps in its homeland, where many middle class families are currently travelling on two wheels, but here, in Europe, the Nano has some stiff competition from second hand super-minis. Especially when you can pick up a decent Ford Ka for under a thousand pounds. It's got a proper boot and a left hand side mirror, for starters.
According to Saga, the Tata Nano will doubtless make a big impact on UK motoring as we know it, and could also change the face of car insurance, for the better.
###