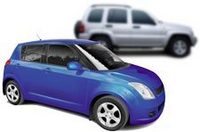 London, UK (PRWeb UK) July 16, 2009
Well, you're not mistaken. The number of speed cameras on the UK's roads has risen by almost 3,000 in just six years. And there's more on the way, with more sophisticated technology. The Government plans to introduce 'time over distance' cameras that can measure a car's average speed over the amount of miles travelled.
Cameras save lives
The Department for Transport fervently believes that speed cameras save lives. And it would seem they have the figures to prove it. The number of people killed or seriously injured on Britain's roads each year has fallen by almost a third since the mid-1990s. That equates to nearly 17,000 fewer deaths or serious injuries, each year.
Independent research appears to back this information up. Where speed cameras are sited, there are 1,745 fewer deaths or serious injuries each year. And local authorities believe cameras are the best way to improve road safety.
Are cameras the real answer to safer driving?
But while speed cameras have their advocates, some think that peppering our roads with yellow boxes isn't the ultimate answer to reducing serious or fatal accidents. A spokesman for the Institute of Advanced Motorists has this to say on the subject:
"Speed cameras are not the be-all-and-end-all of road safety. If a camera is well positioned, it can discourage drivers from speeding at a particular point - but only if the person driving has a licence, car insurance and owns the car."
And that is a very valid point. Speed cameras don't stop rogue drivers; they can't spot drink-drivers, or drivers without a licence or motor insurance.
But the Government continues to use the speed camera as a major weapon in its battle to improve road safety. In fact, we've more speed cameras than any other country in Europe, and here's a worrying statistic. Despite having the most cameras, road deaths have declined at a slower rate in the UK compared to other European countries, whilst deaths due to drink-driving have risen.
Another interesting fact is that speeding is a contributory factor to only 6% of accidents and 13% of fatal crashes on our roads. But speeding fines and prosecutions have increased sevenfold in 10 years, rising from 262,000 in 1996 to 1,865,000 in 2006. That's a lot of roadside revenue.
The final shot
There's no doubt that driving at slower speeds can help save lives. For instance, a pedestrian hit at 30mph is 80% likely to survive, yet hit at 40mph they're only 10% likely to live.
Let us hope then, that the Government's continuous investment in speed cameras will help drive this sort of statistic home.
###