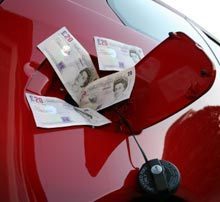 London, UK (PRWeb UK) July 9, 2009
Saga takes a look at five of the top super-minis, and see's why these vehicles could well leave the recession in their tyre tracks.
Ford Ka
Tough times have seen the super-mini rise to the fore, so here's a classic to start our wheels rolling - the original Ford Ka. It's been stated that the Ford Ka is probably one of the cheapest cars in the UK to run, in terms of car insurance, fuel economy and servicing. Its unique and inimitable design also makes it a motoring icon. Expect to pay around £700-£800 for a nice example.
Fiat 500 1.2
From an old super-mini to one of the newest - the new Fiat 500 1.2.
Modelled around its classic predecessor, the original Cinque Cento, the new Fiat 500 oozes Italian style and comes at a tantalizingly low price. And its green credentials are impressive too. The nippy little 1.2 litre engine comes with an eco-friendly sub-120g/km CO2 rating (119g/km). Che una bella machinna!
Citroen C1
If the new Fiat 500 is one of the most stylish super-minis on our list, this entry comes in at the other end of the scale - its design team must have been having an off-day. But if you're looking to run a car on a very lean budget, then perhaps the C1 is for you. It enjoys group 1 car insurance, 109g/km CO2 emissions and the 60mpg. Alternatively, you could go for the Toyota Aygo 1.0 VVT-i or Peugeot 107 1.0, as they're really the same car with a different set of badges.
The Suzuki Swift
With its cheeky little looks and small dimensions, the Swift is an ideal city run-a-round. Six airbags and a four-star EuroNCAP crash test rating takes it way up in the safety ratings, as well as the economy ones. The Land of The Rising Sun hasn't disappointed with the Swift, it's fun to drive, cheap to run and inexpensive to buy.
Mini 1.6D Cooper hatchback
No list of super-minis would be complete without this one. Another super-mini that piles on the style - and gives an entertaining drive, too. OK, it's a bit snug inside, but it is a Mini, after all? High resale values are boosted by a strong demand for this cool looking car. Good green credentials too, with a particulate filter keeping the air clean by lowering soot emissions, and CO2 emissions are 104g/km.
The more you look at these little motoring marvels, the more appealing they become. They're light on fuel, feature at the bottom of the car insurance groupings (according to Saga car insurance) and help protect the planet at the same time. At least something good has come out of the biggest financial fiasco to hit us in fifty years.
###