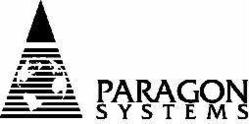 The next-generation scanners are lighter, faster, and easier to use. They have a full QWERTY keyboard in addition to touch screens, incorporate better ergonomics in the design, and work flawlessly in all sorts of lighting conditions.
Chicago, IL (PRWEB) August 08, 2012
Paragon Systems (http://www.fixedassetexperts.com), a nationwide provider of Sage Fixed Assets Management software, has announced it will debut the latest in hand-held scanner technology for conducting physical asset inventories at Sage Summit 2012. In addition to providing Sage partners and Sage Fixed Assets customers the opportunity to "test drive" the new Unitech PA690 scanner at the Paragon Systems Booth 424, fixed asset consultants from Paragon will also conduct two Sage Summit workshops discussing best practices and providing insider tips for better fixed asset accounting and inventory management.
Scott Swarts, President of Paragon Systems, says new scanners like the Unitech PA690 may be a necessity for many existing Sage Fixed Assets customers. "Fixed asset scanning devices made as recently as five years ago rely on operating systems that are no longer supported by Windows 7 or Sage Fixed Assets. Plus, many of those devices are now starting to wear out – but we think customers will be excited when they see some of the newer models."
Swarts explains, "The next-generation scanners are lighter, faster, and easier to use. They have a full QWERTY keyboard in addition to touch screens, incorporate better ergonomics in the design, and work flawlessly in all sorts of lighting conditions. Simply put, they read barcodes faster, more accurately, and from almost any angle – no more squeezing behind some desk to get close enough for a straight shot at the computer service tag. Shoot it once and you're done."
The 3.8" WVGA sunlight readable touch screen is Unitech's highest resolution screen, and one of the largest, allowing more space to view critical information. Standard versions are equipped with an integrated 1D laser scanner, 5.0 megapixel camera with flash, and a QWERTY keypad for fast and efficient data collection. With other options including a 2D imager scanner, RFID reader, and numeric keypad, the PA690 is customizable to fit a variety of applications.
"Our goal is to create solutions that satisfy the demands and needs of today's businesses," said Bill Lewis, Director of Sales and Marketing at Unitech America. "The PA690 embodies this goal by equipping field mobile workers with the tools they need to do their job easily and efficiently."
It's all part of the battle against what Swarts refers to as ghost assets. "When reconciling an inventory, we typically find 15-30% ghost assets still on the books but no longer on the premises. By making it easier to tag and track your fixed assets, you don't have to pay for insurance or taxes on equipment you no longer own. That's money you can now keep and put back into the business."
As a top Sage Authorized Partner and reseller of Sage Fixed Assets and fixed asset inventory software, the Paragon Systems team helps clients reduce their tax liability and insurance costs through accurate tracking of fixed asset inventories. The company also performs cost segregation studies and valuations of businesses, real estate, and machinery and equipment for insurance and financing purposes through their Paragon Valuation Group division. To meet growing demand for fixed asset management and valuation services, Paragon's expanding presence now includes offices on both the East and West Coast of the United States, The United Kingdom, Eastern Europe, and South America. The worldwide headquarters is located in Schaumburg, IL, near Chicago's O'Hare International Airport.
Stop by Booth #424 at Sage Summit 2012 at the Gaylord Opryland Convention Center, in Nashville, TN, August 12-17, to test drive the new Unitech PA690 handheld scanner for Sage Fixed Assets or visit http://www.fixedassetexperts.com/request.html for more information.
About Paragon Systems
Paragon Systems, a division of Paragon International, Inc. located in Schaumburg IL, is an authorized business partner of Sage, and certified in the Sage Fixed Assets Depreciation, Tracking, and Planning applications. Paragon has been working with Sage Software providing fixed asset management solutions for over 25 years. They provide a complete Goldstrike solution, including inventory services and bar-coding hardware, data conversion and integration, cost reconciliation and appraisal services, with software customization and training. As a member of the FAS VAR council, they regularly contribute to the development and enhancement of the fixed asset product line, specializing in FAS implementation and integration of inventory services.
Paragon Valuation Group, a Division of Paragon International Inc. provides valuation services including business valuations, appraisals of real estate and equipment, property tax reduction programs, fixed asset management activities, maximization of federal tax benefits through retrospective and current Section 1245/1250 cost segregation studies and Tax Engineering™ consulting, Section 179D Energy Credit studies, and allocation of purchase price for acquisition of properties or businesses. Learn more at http://www.FixedAssetExperts.com
About Unitech
Unitech manufactures a wide range of data collection technologies that improve customer productivity and efficiency. Established in 1979, Unitech continues to bring valuable products and services to global customers in diverse industries. More information about Unitech and its products can be found at http://us.ute.com