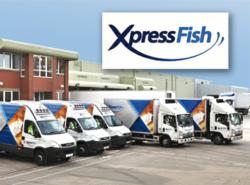 We did look into Microsoft Dynamics, but it came with a high price tag and, having used Sage since 2007, it was a natural next step to look at what Sage could offer.
Warrington, UK (PRWEB UK) 19 September 2012
Established in 2007 as a family-owned business, XpressFish originally supplied fish to the fish and chip shop trade and to the catering industry via distributors. The company changed its business model in March 2011 to distribute directly to the trade. Since then the business has grown rapidly; one indicator being that from originally needing just one vehicle to make deliveries, it now has a fleet of six.
With this growth came the need to review the company's IT systems and processes. The Sage 50 Accounts system the company previously used had stood it in good stead, but XpressFish management recognised that the time had come for a business management system, rather than an accounting system. Better management insight, customer intelligence and support for the growing telesales team were all priorities for the replacement.
Managing Director Simon Tomlinson outlines the selection process, "An independent consultant helped us to define our needs and we reviewed the market. We did look into Microsoft Dynamics, but it came with a high price tag and, having used Sage since 2007, it was a natural next step to look at what Sage could offer. We were put in touch with Sage Business Partner Datel, who demonstrated Sage 200 to us in May, and it quickly became clear that it would do everything we needed it to. We were impressed by Datel's credentials; the fact that they have won so many Sage partner awards gave us confidence in their experience and expertise."
XpressFish placed the order for Sage 200 Financials and Commercials in summer. With a growing customer base, there are plans to make full use of the customer relationship management (CRM) functionality within Sage 200, whereby everything the company knows about the customer is held centrally in a single location.
Simon comments, "We're implementing caller display telephony in parallel and using this with Sage 200 means that our telesales team will have instant access to all the customer's details as a call comes in, enabling the team to provide efficient, informed service. By being able to pull up previous orders for a customer, they'll again save time in completing a new order, while reducing errors, too." The company previously used a separate order system.
Simon adds, "In migrating to a more powerful system we will also benefit from greater automation, of our pick list, for example. By taking manual operations out of the process, we'll improve efficiency and accuracy."
The summer months are always the busiest for XpressFish, as it helps fish and chip shop owners to meet demand from hungry holiday-makers. As soon as the heat is off, the company will start working with Datel on the implementation of Sage 200, with the aim of going live in November.
For Datel, Jo Fulton, sales and marketing director, says, "We are delighted to have been chosen by XpressFish to help them to take this significant step in moving to more powerful technology. We are now looking forward to developing a fully integrated business management system that will enable XpressFish to capitalise on its strengths and grow the business further."
About XpressFish
XpressFish specialises in frozen-at-sea fish for the UK fish and chip market and individually quick frozen fillets for the catering industry.
The company was formed in 2007, as a family-owned independent business in Hull at the heart of the UK fishing industry. It imports fish from Iceland, Norway and the Faroe Islands.
About Datel
Datel is a software provider and leading Sage Business Partner in the UK offering ERP, accounting and CRM solutions from Sage. Datel supports over 900 customers worldwide in industries such as food and beverage, distribution, manufacturing, e-commerce and clothing and footwear.
OfferingSage 200, Sage ERP X3, and Sage ERP 1000, and CRM solutions Sage SalesLogix and Sage CRM, Datel specialises in understanding business requirements, tailoring a solution to specific needs and providing award-winning customer service and Sage Support.