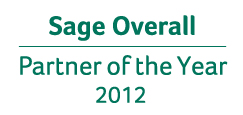 Datel has been a reseller of Sage Mid-Market solutions for over 22 years and in that time we have forged a strong working relationship.
Warrington, UK (PRWEB UK) 21 November 2012
Datel has once again brought home the honours from the annual Sage Business Partner Awards. At this year's event, Datel was named Sage Business Partner of the Year for the fifth time for its outstanding commitment to Sage and the Sage user community.
Datel also led in three product categories, winning the 2012 Sage 200, Sage ERP 1000 and SalesLogix Partner of the Year awards.
The awards are the outcome of a successful year of Sage 200, Sage ERP 1000 and Sage ERP X3 sales to both new and existing customers in a diverse range of sectors, including Hargreaves Services in bulk materials production, Boston Tea Party Group in retail, and Xpress Fish in food and drink.
Jayne Archbold, Managing Director, Mid-Market Division, Sage UK Ltd, comments: "Datel has been a reseller of Sage Mid-Market solutions for over 22 years and in that time we have forged a strong working relationship. Our technical teams work closely together to develop and improve Sage solutions, and Datel's business strategy and marketing are aligned with our own. As one of our top Business Partners, Datel contributes to a high proportion of the mid-market revenue generated year on year and supports one of the largest bases of Sage mid-market customers in the UK."
For Datel, Executive Chairman Alan Simpson says: "We attribute our commercial and awards success to working towards a closely defined set of strategic goals, maintaining our deep knowledge across a range of sectors, and continuing to provide excellent service to our customers, many of whom have been with us for over ten years."
He adds, "We never take our customers' business for granted, which is why healthy financial performance and increased sales have gone hand in hand with substantial investment in training and development across the business, with a particular focus on Sage's vendor accreditations, and improvements in our delivery of support."
Datel customer Paul Bailey, Systems Manager at BFM Europe Limited, designers and manufacturers of gas and electric fires, says: "Datel staff are always very professional and knowledgeable. They are a fantastic ambassador for Sage."
About Datel
Datel is the leading Sage Business Partner in the UK providing Sage consultancy, implementation and support for Sage 200, Sage Line 500, Sage ERP 1000, Sage ERP X3, Sage SalesLogix, Sage CRM and Sage Tax. Datel also offers its own innovative FUSION range, a suite of products that enhances and extends core Sage functionality.
Datel employs a loyal team of over 140 highly skilled people, working out of its Warrington and Leeds offices to serve a growing base of over 800 customers worldwide. For more information about Datel, visit http://www.datel.info or call 0845 521 1875.
About Sage UK Ltd
Sage (UK) Limited is a subsidiary of The Sage Group plc, a leading international supplier of business software. Sage business software and services range from accounts, payroll, forecasting and business intelligence to customer relationship management, e-business and help for start-ups. For more information about Sage (UK) Ltd, visit http://www.sage.co.uk.