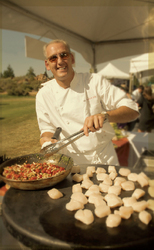 The Sagebrush Classic is world class. The event always puts together a great line-up of chefs. The outdoor event is spectacular in the Oregon high desert, and they pair our cuisine with beer. Chefs LOVE beer.
Bend, OR (PRWEB) March 30, 2010
The Deschutes Brewery Sagebrush Classic announced today its line-up of celebrity chefs who will participate in this summer's Classic Feast, the highlight of the popular two-day celebration which benefits numerous regional charities.
The Sagebrush Classic, a perpetual sell out, is a favorite among the star chef crowd, many of whom return summer after summer. This year's event is slated for July 16-17, 2010 at Broken Top Club in Bend, Oregon.
Indeed, an invitation to participate in the Classic Feast is regarded as a high honor in the chef community.
The chef line-up for 2010 Sagebrush Classic Feast includes:
Roberto Donna
Galileo
Washington, DC
Tom Fleming
Preferred Restaurant Group
Dallas, TX
Ken Frank
La Toque
Napa, CA
Mark Kiffin
The Compound
Santa Fe, NM
Jackie Lau
Roy's of Hawaii
Honolulu, HI
Jean Pierre LeLievre
Le Henri IV
Paris, France
Gavin McMichael
Blacksmith
Bend, OR
Matt Mulder
Broken Top Club
Bend, OR
Matt Neltner
Deschutes Brewery
Bend, OR
Scott Neuman
¡Oba! Restaurante
Portland, OR
Vitaly Paley
Paley's Place
Portland, OR
Charles Phan
The Slanted Door
San Francisco, CA
Cory Schreiber
Chef/Author
Portland, OR
Michael Smith
Restaurant Michael Smith & Extra Virgin
Kansas City, MO
Greg & Mary Sonnier
Gabrielle at The Uptowner
New Orleans, LA
Johnathan Sundstrom
Lark
Seattle, WA
SPECIAL GUESTS:
John Finger & Terry Sawyer
Hog Island Oysters
San Francisco, CA
Bill Marinelli
Marinelli Shellfish
Bangkok, Thailand
Nigel Viet
Intercontinental Asiana Hotel
Ho Chi Minh City, Vietnam
Maria Diem and Anna Truong
Sheraton Saigon Hotel & Towers
Ho Chi Minh City, Vietnam
This year's event begins Friday, July 16 on Broken Top's Golf Course. Fifty-two foursomes will compete for prizes and bragging rights in a friendly but fierce best ball competition.
The party continues on Saturday, July 17, with the Sagebrush Classic Feast, held in the Broken Top Meadow. More than 1,000 guests will dine on small-plate samplings of cuisine that has been carefully paired with award-winning craft beers from Deschutes Brewery. Many of the restaurants represented by the celebrity chefs have months-long waiting lists for reservations, yet the Sagebrush Classic allows guests to meet the chefs personally and enjoy their gourmet creations. The unique setting is a drawing card for those who want to treat special clients or just have fun with family and friends.
The gourmet grazing is followed by dancing under the summer sky. Headlining this year's entertainment is the high energy 10-piece Seattle show band, Oncore, guaranteed to get you out on the dance floor!
Now celebrating its 22nd year, the Deschutes Brewery Sagebrush Classic had humble beginnings. It started in 1989 when Gary Fish, Deschutes Brewery founder and president, organized a golf tournament for the pub's customers, employees and vendors. That was followed by a barbeque in the alley behind the pub on Bond Street, and originally benefited the Deschutes Children's Foundation. In 1994 a gourmet dinner was added that involved some of the top chefs in the country.
Today the Classic Feast showcases the culinary artistry of national and international star chefs, and has evolved into a must-attend event for chefs and party-goers alike. On the charitable side, the Sagebrush Classic has distributed more than $2 million to Deschutes County and Central Oregon charities serving children and families.
Major cash sponsors to date include Deschutes Brewery, Young's Columbia Wine Group, Fred Meyer, OSU Cascades, Smolich Motors, Starview Foundation and Wells Fargo.
Major in-kind sponsors include Broken Top Club, Broken Top Community Association, Aloha Produce, The Bulletin, Combined Communications, Cutter & Buck, Food Services of America, KOHD-TV, North Advertising and Pepsi of Bend.
Detailed information and pricing for sponsorships, golf teams, tables, and tickets are listed at http://www.sagebrush.org or call 800-601-8123.
###