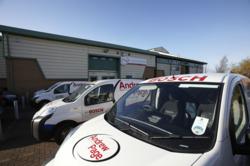 In an undertaking on this scale, we need someone who knows the system inside out, so the choice of business partner was an equally important part of the decision. In all our dealings, we have been impressed by Datel and everyone we've met there.
Warrington, UK (PRWEB UK) 5 January 2012
Andrew Page Ltd is one of the UK's largest and fastest growing distributors of quality car, workshop equipment, tools and diagnostics. The company has chosen Datel to implement a Sage ERP X3 enterprise resource planning system as its new business management platform.
In business since 1946, Andrew Page Ltd has expanded from its Leeds roots to operate 61 branches, from Newcastle down to the Home Counties. Its newest branch has just opened in Wolverhampton.
As IT Director Stephen Coleman explains, expansion on this scale needs careful management: "For sustainable and profitable growth, a flexible and robust IT infrastructure is critical. A year ago, we undertook a wide-ranging exercise to draw up a strategic roadmap for IT. As a major component of the strategy, we initially sought a replacement for our legacy finance system; it had served us well for over two decades but was struggling to cope with the demands placed on it. We then widened the search to a system that would help in administering our growing depot network, with the scalability and the flexibility to mould to our business without extensive development work."
User-friendliness was also a criterion, as Stephen notes: "In 2011 alone, we have created over three hundred new jobs and with so many new staff coming on board, it's important to have an intuitive system that will eliminate the long learning-curve inherent in the present system."
Sage ERP X3 was not the first system that came to mind: "We carried out a thorough review of the market and drew up a short-list. When asked for their input, our auditors recommended taking a look at both Sage and Datel. We met with Datel in May this year and by September had made the decision to install Sage ERP X3. Compared with a solution like Microsoft Dynamics AX, it appeared both functionally richer and more flexible in meeting our requirements."
Stephen is keen to stress, "In an undertaking on this scale, we need someone who knows the system inside out, so the choice of business partner was an equally important part of the decision. In all our dealings, we have been impressed by Datel and everyone we've met there."
The business strategy is one of continued rapid growth. Once Sage ERP X3 is in place in 2012, Andrew Page Ltd will have a system sophisticated enough to meet complex requirements and to scale up in the future to handle rising volumes of transactions. User numbers are set to grow from the present thirty or so to over four hundred. "Sage ERP X3 and Datel are equipping us for growth," says Stephen.
There will be a phased roll-out of Sage ERP X3, starting with finance functionality at the Leeds head office before the system is extended to support the depot network. Distribution capabilities will support the branches with comprehensive depot functionality for day-to-day operations, including stock control, customer and supplier returns and warranties.
Improved management reporting is another priority for the new system, to meet the greater demand for reports arising from rapid business growth. Currently, it takes one and a half members of staff ten days each month to produce meaningful management reports. Work is under way to ensure that Sage ERP X3 efficiently generates the necessary management information in the appropriate formats.
Commenting on Andrew Page's choice of Datel and Sage ERP X3, Guy Paton, Technical Director at Datel, says, "We are extremely pleased to be selected to implement the new solution. Andrew Page has an exciting future ahead and we are looking forward to ensuring that Sage ERP X3 supports the company's ambitions for growth. Our project team is now working closely with Andrew Page Ltd and the IT team in particular to understand the business and its requirements in detail."
About Datel
Datel is a software provider and leading Sage Business Partner in the UK offering ERP, accounting and CRM solutions from Sage. Datel supports over 900 customers worldwide in industries such as food and beverage, distribution, manufacturing, e-commerce and clothing and footwear.
Offering Sage ERP X3, Sage ERP 1000 and Sage 200 and CRM solutions Sage SalesLogix and Sage CRM, Datel specialises in understanding business requirements, tailoring a solution to specific needs and providing award-winning customer service and Sage Support.
Visit http://www.datel.info for more information.
About Andrew Page
Andrew Page has been delivering to the motor trade for over 65 years. Today, the company services over 13,000 customers, employs more than 1,500 people and has one of the widest ranges of parts and components in the UK. Turnover is in the region of £120 million p.a.
###