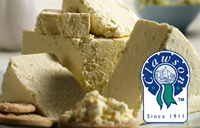 We sought a modern platform that would deliver the accessibility, speed, accuracy and supportability over the long term that are vital to our business. Sage ERP X3 from Datel ticked all these boxes for us.
Warrington, UK (PRWEB UK) 2 February 2012
Founded in 1911 Long Clawson Dairy has a willingness to modernise its procedures and invest strategically in new technology where this will bring measurable return.
In early 2011, Long Clawson Dairy began the search to replace its ageing business management system. Chief Finance Officer Graham Parker explains, "Our previous system had served us well for twenty years but we had developed it as far as we could. Moreover, support was becoming an issue."
The business conducted a rigorous, in-depth review of the ERP (enterprise resource planning) solution market, The business is a co-operative, and the board of directors and the farmers who represent the owners of the business were fully involved through two-day workshops with the two finalists. The eventual decision went in Datel's favour to supply a large-scale Sage ERP X3 solution for fifty users, integrating financials, distribution, manufacturing and warehouse operations.
Graham comments, "We sought a modern platform that would deliver the accessibility, speed, accuracy and supportability over the long term that are vital to our business. Sage ERP X3 from Datel ticked all these boxes for us."
Selecting the right provider was equally important as choosing the right technology: "The other contender on the final stretch had a solution every bit as good as Sage ERP X3, but we felt that Datel had a clear edge. They rated very highly in having a culture that matched our own and offering a team we felt we could work well with."
Graham continues, "Our two main drivers in replacing our old system are to be able to analyse profitability by customer and manage the backwards and forwards traceability that the large supermarkets require. Sage ERP X3 will help us to respond quickly to spot checks and demonstrate our full compliance within a few hours."
Sage ERP X3 will provide wide-ranging support for day-to-day operations, including: monitoring raw material usage and labour for every production run; improved management and visibility of stock in the warehouse; financials such as obtaining weekly profit estimates and visibility of variance against budget; and EDI (electronic data interchange), a must-have in communicating with retail customers.
Graham is looking forward to radically improved business reporting and an end to a multiplicity of spreadsheets: "It has been frustratingly difficult to extract data from the system in a meaningful, usable format without technical help. We tend to end up with slight variations in the data, too. When Sage ERP X3 unifies data from across our business, everyone will have access to a dependable, integrated source of data, providing us with a single version of the truth. We'll be easily able to produce our own simple reports, too."
For Datel, Guy Paton, Technical Director, comments, "It is rewarding that Long Clawson Dairy has recognised in Datel a long-standing commitment to quality and service that reflects its own. For our part, we are looking forward to working with Long Clawson Dairy to assist in optimising its processes and equipping managers with ready access to comprehensive, accurate data that is essential for profitable growth."
About Datel
Datel is a software provider and leading Sage Business Partner in the UK offering ERP, accounting and CRM solutions from Sage. Datel supports over 900 customers worldwide in industries such as food and beverage, distribution, manufacturing, e-commerce and clothing and footwear.
Offering Sage ERP X3, Sage ERP 1000 and Sage 200 and CRM solutions Sage SalesLogix and Sage CRM, Datel specialises in understanding business requirements, tailoring a solution to specific needs and providing award-winning customer service and Sage Support.
About Long Clawson Dairy
Award-winning cheese maker Long Clawson Dairy Ltd, based near Melton Mowbray, has been making cheese for a century. It is supplied by over forty farms, all from within the Leicestershire, Nottinghamshire and Derbyshire area, the only counties that can supply milk for Stilton®, which is protected by a PDO (Protected Designation of Origin).
The company has more than thirty products in its range and operates from three separate sites. It marked its celebratory centenary year with a visit from Prince Charles and the Duchess of Cornwall in January 2011 and success in the International Cheese Awards, winning the Reserve UK and Reserve Supreme Championships.
###