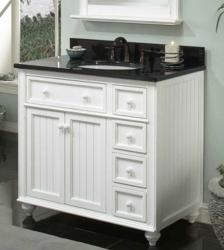 With more than 11 new configurations based on the Cottage Retreat collection from Sagehill Designs, Homethangs is offering an innovative new option in luxury bathroom design.
(PRWEB) February 28, 2013
HomeThangs.com – the Home Improvement Super Store offers a wide variety of bathroom vanities to consumers. With their acquisition of Sagehill's expanded Cottage Retreat collection, they now offer modular installation options as well as a variety of designer styles.
Homethangs is proud to announce the expansion of Sagehill Designs' Cottage Retreat collection of bathroom vanities. Traditionally offering bathroom vanities in conventional pre-made sizes from 24 to 48 inches, Sagehill's collection now includes modular designs ranging up to 120 inches wide, which can be extended even further. With single and double vanities available in a variety of sizes and with multiple design features, Homethangs now offers more options than ever.
Blending the high design of pre-made bathroom vanities with the flexibility of custom design, Sagehill's new, more extensive collection offers the best of both worlds – especially for customers looking to furnish larger bathroom spaces. Each vanity is made of modular pieces, including cabinets, drawers, matching mirrors and makeup stations, allowing designers to custom build each vanity to the specific space and storage requirements of their individual bathroom.
Because each vanity is made to order with a variety of different sized and shaped pieces, vanity tops aren't included (as they are with many of Sagehill's standard sized vanities). This offers designers the freedom to choose their own counter material, resulting in not only a more detailed set of cabinetry than the average custom built vanity, but a unique vanity top to go with their stylish modular design. For more information about Sagehill's new collection and design tips for how to build one of their modular vanities, visit their guide: Modular Bathroom Vanity Sets From Sagehill Designs.
HomeThangs.com is more than just a Home Improvement Superstore. They're constantly seeking to provide homeowners and designers with the right products at competitive prices. With a wide selection of products, expert design tips, and comprehensive shopping guides, Homethangs is a company that's there at all stages of the design process, from idea to execution. It's their goal is to make dream remodels doable.