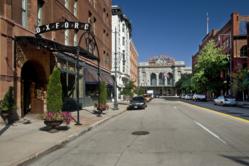 "We're so excited to once again see so many of our properties featured on this prestigious list," said Walter Isenberg, President and CEO of Sage Hospitality
Denver, Colorado (PRWEB) October 18, 2012
Sage Hospitality is pleased to announce that seven of its hotels are included in the Condé Nast Traveler 2012 Readers' Choice poll, which for the first time breaks down the United States into regions.
Three Denver hotels are featured in the "Top 10 Hotels in the West" category, with The Oxford Hotel ranked #1, the JW Marriott Denver Cherry Creek ranked #9 and the Curtis – a Doubletree by Hilton ranked #10.
Readers describe the Oxford Hotel - Denver's only independent boutique hotel - as "a wonderful older hotel with lots of charm." At the upscale JW Marriott Denver, readers praise the staff for "always smiling and exuding that classic Colorado friendliness." And at the pop-culture themed Curtis, readers highlight the "excellent service and fun environment."
The Renaissance Pittsburgh Hotel is ranked #25 in the "Top 45 Hotels in the Northeast" list, with readers describing it as a "vintage hotel" with a "design that is beyond stunning."
In the "Top 20 Hotels in Florida" category, Sage's Il Lugano Hotel in Fort Lauderdale is ranked #8, with readers commenting that "the staff was attentive and views of the Intracoastal Waterway were gorgeous."
The Renaissance Blackstone Chicago hotel was ranked #6 in the "Top 25 Hotels in the Midwest" category, with readers noting that the "modern-day renovations have preserved its historic charm."
In Portland, the Nines is ranked #9 on the "Top 20 Hotels in the Pacific Northwest," touted for its "perfect downtown location" and "Hollywood-glam rooms with ivory leather headboards and mercury glass lamps."
"We're so excited to once again see so many of our properties featured on this prestigious list," said Walter Isenberg, President and CEO of Denver's Sage Hospitality. "This award factors in real feedback from discerning guests, so it's a testament to how well each of these hotels delivers a unique travel experience."
The 2012 survey – which compiled votes from nearly 46,000 readers - is featured in the November issue of the magazine out on newsstands now.
Denver-based Sage Hospitality, a leader in hotel management, development and ownership, operates more than 60 large, full-service hotels as well as extended stay and select-service properties nationwide. For more information about any of the featured hotels, please visit http://www.sagehospitality.com.
###
About Sage Hospitality
Founded in 1984, Sage Hospitality has strategically grown into one of the largest privately held hotel management and ownership companies in the nation operating a variety of large, full-service hotels as well as extended stay and select-service properties. Sage Hospitality's comprehensive portfolio includes major international brands such as Marriott, Sheraton, Renaissance, and Westin, and as well as independent boutique hotels. Sage Hospitality has further differentiated with the creation of the Sage Restaurant Group, which has created and is managing 10 unique restaurant concepts including the acclaimed Mercat a la Planxa in Chicago. http://www.sagehospitality.com.