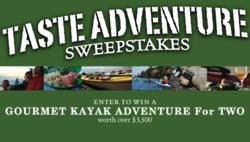 This paddling adventure goes right to the heart of what we're all about at Sahale Snacks: the beauty of nature, the thrill of adventure and amazing foods and flavors.
(PRWEB) July 16, 2012
Sahale Snacks®, a company founded on the belief that you should never have to compromise great taste no matter where you are, will kick off its first-ever Taste Adventure Sweepstakes, beginning July 16, 2012. One deliciously adventurous Grand Prize – a Gourmet Kayak Expedition for Two – and six weekly prize packs will be awarded over the course of the sweepstakes, ending August 24, 2012. Contestants may enter by visiting the Sahale Snacks Facebook page.
The Grand Prize winner will receive a three-day, two-night San Juan Islands Gourmet Kayak Expedition in beautiful Washington State, for two, scheduled for September 7‒9, 2012. The winner (and his or her guest) will enjoy a unique "pampered paddling" adventure hosted by Savor Seattle Food Tours and San Juan Island Outfitters, complete with locally sourced gourmet cuisine, award-winning Washington wines, and Sahale Snacks®.
The Grand Prize winner will also receive a check for $2,000, which may be applied toward any transportation expenses to and from the expedition and any lodging before or after the expedition. The Taste Adventure Sweepstakes runs from July 16, 2012 at 9am PST through August 24, 2012 at 12am PST. Entrants must be 18 years or older and legal residents of the U.S.
"This paddling adventure goes right to the heart of what we're all about at Sahale Snacks," says co-founder Edmond Sanctis. "We've always been inspired to combine the beauty of nature, the thrill of adventure and amazing foods and flavors, and this gourmet kayak expedition highlights the incredible scenery of the San Juan Islands and the extraordinary flavors of the Pacific Northwest."
In addition to the Grand Prize, each week one winner will receive a Sahale Snacks® Snack Better™ Prize Pack consisting of a sample of the company's newest award-winning line, Sahale Crunchers™ almond snacks, which were introduced in early July.
Sahale Crunchers are available in three delightfully zingy flavors: Almonds with Cherries, Apples + Maple, a delicious combination of sliced almonds with naturally dried cherries and apples with a light maple glaze and a touch of cinnamon; Almonds with Cranberries, Sesame Seeds + Honey, a delicate blend of almonds, naturally dried cranberries and sesame seeds with a light orange blossom honey glaze and pure ground Madagascar vanilla bean; and Almonds with Parmesan Cheese + Herbs, an Italian-inspired mix of almonds, tangy grated parmesan cheese, flavorful sun dried tomatoes and fresh oregano, thyme and basil.
Sahale Crunchers join the line-up of all-natural, cholesterol free, kosher and certified gluten-free snack products from Sahale Snacks: Nut Blends (Sing Buri, Soledad, Valdosta,), Glazed Nuts (Cashews with Pomegranate and Almonds with Cranberries), and Seasoned Nuts (Tuscan Almonds, Barbeque Almonds, and Southwest Cashews). SRPs range from $.99/.75oz to $4.99/4oz. The company supports Northwest wind farms to offset 100% of the power used at its facility.
About Sahale Snacks
Sahale Snacks was founded in Seattle in 2003 by Josh Schroeter and Edmond Sanctis after climbing Mt. Rainier and enduring days of uninspiring trail mix and energy bars. The two friends set out to create a natural and healthy snack that tasted great. The company follows a simple philosophy: Start with natural whole ingredients, add a dash of culinary magic and offer busy consumers convenient, delightful, healthy snacks. Sahale Snacks is dedicated to helping people "Snack Better."
The founders named the company after Sahale Peak, which is north of the Cascade Pass in the North Cascades National Park in Washington State. Pronounced "sah-HA-lee," it's a beautiful peak with a cool glacier and great views. For more information please visit ww.sahalesnacks.com or Sahale Snacks on Facebook and Twitter. Sahale Crunchers™ are available in supermarkets, natural and specialty grocers, as well as, Whole Foods, Publix, Costco, Amazon.com and online. A store locator is available at http://www.sahalesnacks.com/storelocator.